Watch: VR drones race like Speeder Bikes in the French Alps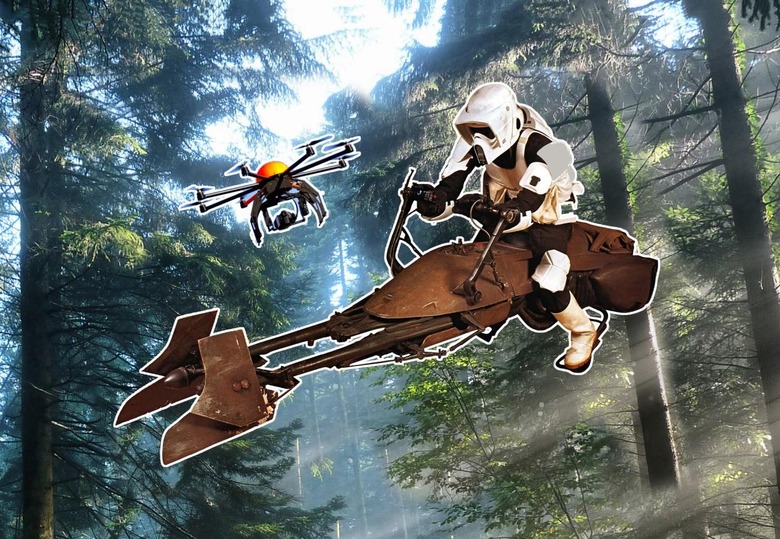 Watch as the Airgonay drone club races their home-made drones fly through the French Alps like Imperial Troops on Endor. This isn't Return of the Jedi – it's real life. President of the Airgonay drone club Herve Pellarin showed off their most recent race this week, making it clear that the French are doing things right. Right with drones, right with virtual reality headsets, right with a combination of the two. This is what this technology was made for, clearly.
Racing tiny flying devices through the forest would have been awesome enough, but no, these folks went the extra mile. They've added virtual reality headsets to the mix. With cameras (like GoPro) mounted on their drones, they connect to headsets and travel along with their drones in real time.
These drones blast through the forest at speeds up to 40 miles per hour. The space they race in is clearly marked, and Pellarin speaks of their efforts in getting a permit to race in the space – it is public land, after all.
Pellarin also lets it be known that he wants the video to inspire the world to expand their views on drones. "Drones are not only for spying or doing the headlines when they fall in the street," says Pellarin.
He also hopes that after this first race, the NOCOMP Stadium Challenge, they'll be able to have a worldwide tournament of drone racers in the near future – good deal!
Above you'll see Pellarin's presentation in full. Below you'll see another view from Thonain, one of the racers – full speed ahead!
Finally you'll see a view from one of the drones in the race. Make with the crash avoidance!