Watch Predator's Mortal Kombat X release with Carl Weathers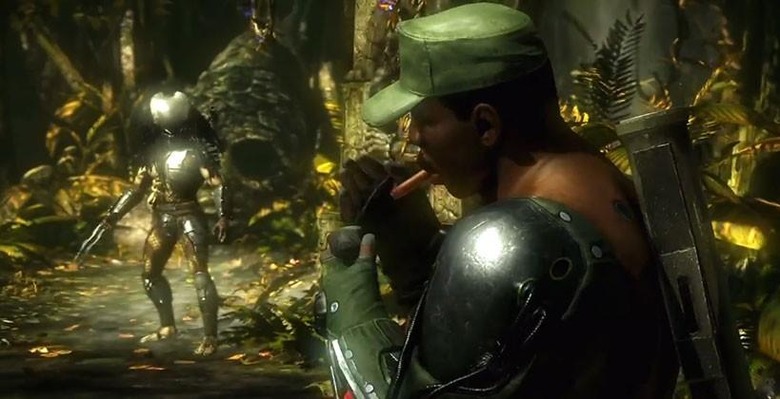 Watch the Predator tear Jason apart in Mortal Kombat X – because there's no better way to spend your afternoon. What you're about to see is not only the release of the Predator character for Mortal Kombat X on all platforms, but the reveal of Carl Weathers as Jax. Weathers took the role of beefy fighter in the first Predator film – now he's back to do damage as everyone's favorite metallic basher. Here you'll see the fight you've been waiting for – unless you'd rather Jesse "The Body" Ventura be released. We'll keep crossing our fingers for that one.
If only Apollo Creed had come correct with a pair of cybernetic fists when he fought Rocky, things could've gone so much different. Here you'll see the cigar-smoking man-meat you've been hoping so long to tear apart. Complete with costume. Predator style.
The release of this character comes with the Mortal Kombat X Predator Bundle. That includes Predator as a playable character as well as three new character skins. Commando Johnny Cage joins Infrared Scorpion and Jax as played by Carl Weathers. It's age-restricted killer bashing, all ready to take on all levels from top to bottom.
What you're going to want to do is pick up this pack OR the full on everything pack to get what you came for. Then take on the masses online and make them super jealous that you can come out camouflaged. Just like Reptile.
Imagine the fun you can have with two completely transparent fighters at once.
This pack has been released to all platforms Mortal Kombat X is out on as of this afternoon.