Wacom to woo desktop artists with Cintiq 12WX inkable monitor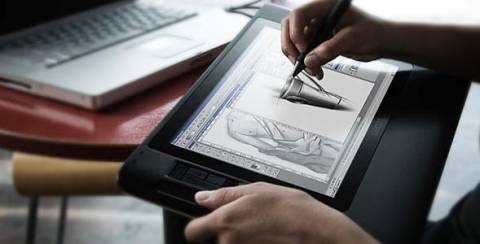 As any graphic designer (or Tablet PC owner, for that matter) will tell you, when it comes to digital pen technology you'll always get fine results going to Wacom.  Up until now, however, your choice has been shepherded into one of two different product types: those with a sturdy desk and a desire to see what they're drawing on can pick from the Cintiq range of touch-sensitive displays, while those who want something more compact and, dare I say, lap-friendly can choose from the numerous ranges of graphics tablets (such as the latest Bamboo or Intuos3).  Wacom are blurring that division, now, however, with the introduction of the baby in the Cintiq range: the compact 12WX.
Comprising both the company's 1,024 pressure-level tablet and a 12.1-inch LCD display running at 1280 x 800, the 12WX carries over the same touch-strips and programmable keys from the Intuos3 range; it also has pen-tilt sensitivity and "input device rotation support".  Compatible with Windows in XP and Vista flavours, as well as OS X, different types of pen – such as brushes and stencils – can be preconfigured to load automatically when particular software runs, and of course the pen is wireless for ease of use.
It'll be available in the UK from November 1st, priced at £829 ($1679).