Vuzix has launched a new rival to Google's Glass, the Vuzix M2000AR HMD, using new Waveguide optics built in partnership with Nokia. Targeted at industrial users, though likely to spawn a consumer version soon, the M2000AR has a 720p display integrated into its monocular lens along with a 1080p camera, integrated head tracking, and a choice of bright monochrome or slightly more subdued full-color screens. According to Vuzix, the hologram-based system it uses is lighter, less bulky, and produces better graphics than the optics regularly used in headsets like Glass.
Vuzix inked its licensing agreement with Nokia back in 2011, borrowing the phone manufacturer's holograph system. That was combined with Vuzix's own waveguide technology, resulting in a 1.4mm thick "window" that operates much in the way that a fiber optic cable does, pushing the light through a hologram to expand it in the eyepiece.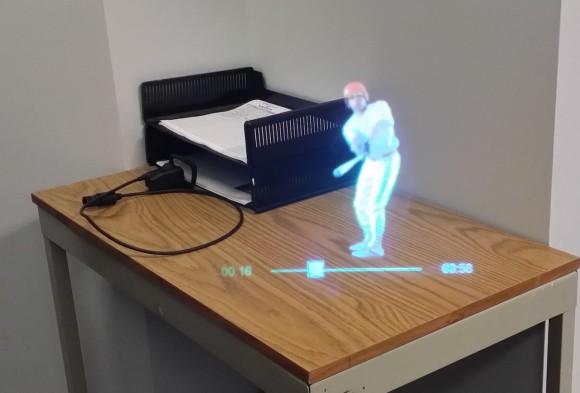 The M2000AR head-mounted display has a ruggedized aluminum allow enclosure that can be mounted on the side of a helmet, on a head-strap, or in some other way. The monochrome green version delivers more than 1,200 nits of brightness, while the full color version manages over 400 nits; both are good enough for outdoor use, Vuzix insists.
Input is via HDMI, and the result is the equivalent of looking at a 13-inch laptop from around two feet away. The panel runs at 1280 x 720 resolution, and offers an electronic sunglasses tint with six levels of adjustment through the hand controller (or 256 levels when controlled via USB). The head-tracker has an integrated compass and 3-degrees of freedom, and there's optional USB audio, headphones, and a noise-canceling microphone. The 5-megapixel camera captures regular Full HD video, or up to 83fps VGA resolution footage.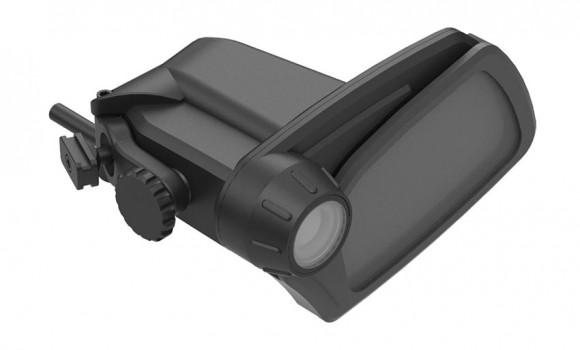 Unfortunately, the big limitation is battery life. Vuzix says the M2000AR will run for around 2-3 hours on its standard power pack, though an auxiliary pack is supported. The idea is to overlay graphics from a laptop, smartphone, or tablet right onto the wearer's line of sight.
The M2000AR is pretty specialized – the $6,000 price tag tells you that from the outset – but Vuzix has some broader ambitions for the waveguide technology in 2014. In fact, there will be "many" devices using the system, presumably building on the more consumer-focused M100 headset that began shipping earlier this month. The company tells us that they'll be a whole lot cheaper when they arrive in the middle of next year or so.
Vuzix isn't the only company looking to true AR, however. Lumus showed off its own developer device last week, a more traditional style of frames which could also do augmented reality.
Update: Vuzix has provided us with some extra images showing the M2000AR more clearly; they're in the gallery below.