Vuzix iWear AV230XL Video Headset: SlashGear Review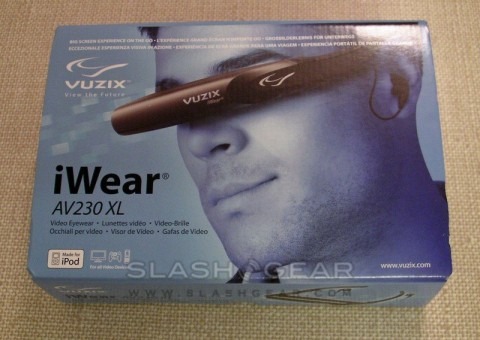 Head-mounted displays are one of those great ideas that, in practice, few people actually go for.  Yes, having the effect of a full-sized TV with the bulk (and cost) of a set of chunky designer sunglasses is good in theory, but the look can put people off.  Vuzix sent us their OLED-toting iWear AV230XL headset, which promises the experience of watching a 44-inch screen from nine feet away.  Big-screen or big-letdown?  SlashGear set to finding out.
The theory behind the Vuzix headsets is simple.  Rather than sitting several feet from a large screen, why not put far smaller screens up close to your eyes.  Since one screen couldn't get close enough to your face without making you cross-eyed, they give each eye its own panel: in the case of the AV230XL, it's the first in Vuzix's range to use OLED panels.  These measure roughly a centimeter square, and since they're showing the same image the brain recognises the two pictures as one.
As a glasses-wearer, I had a second motive for trying out the iWear system: how flexible were its individual eye adjustments, or would I be forced to try to wear both my glasses and the headset?
In the box, you get the Vuzix headset itself, with two attached earbuds and a tethered remote unit, a drawstring bag to carry them in, a set of foam earbud covers, a replacement nose-grip, a neck strap and a range of A/V adapters.  These adapters are what let you use the AV230XL with a variety of media sources: Vuzix sent us a general 3.5mm AV cable suitable for smartphones with A/V output, an adapter for use with a video-capable iPod, and an RCA adapter.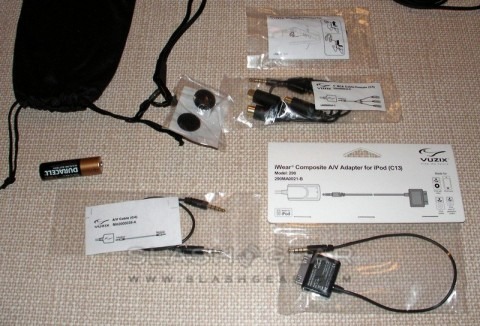 The remote unit is a little longer and broader than the single AA battery that powers the headset, with four buttons – power, plus, minus, exit – and an LED.  On one end there's a 3.5mm socket into which the different A/V adapters plug in.  Vuzix claim you'll get up to 7hrs runtime from a standard alkaline AA battery, or switch to a rechargeable Lithium Ion battery for up to 17hrs playback.  That's in no small part thanks to the power-sipping nature of OLED displays; similar LCD-based headsets from the company manage just 70-percent of the runtime.
Setup is straightforward.  Choose from the two nose-bridges – one perches, the other grips – plug in a source and turn on.  To my surprise, the AV230XL fits quite comfortably even if you're already wearing glasses, unless you have a tendency to perch your specs on the very tip of your nose.  Without glasses it's even easier to find a comfortable position, thanks to the dual-hinged arms which both open, as normal, and pivot slightly up and down.  Basic brightness and contrast tweaks are made from the remote.
A rotary dial underneath each lens adjusts the focus, with a diopter range of +2 to -5.  My eyes are perhaps the ideal test subject for the AV230XL: one is very short-sighted, the other has an astigmatism.  In practice, I found I could get a very clear picture for the short-sighted eye, and a slightly less distorted one for the astigmatic eye; that's no surprise, given the lack of barrel lens adjustment.  Still, picture quality without my glasses was good, and while long-term use left my eyes strained, it was certainly watchable for a 30 minute TV show. 
This is partly down to the relatively low resolution of the OLED displays themselves.  Each is a mere 320 x 240 panel, which means that all but the most basic of video ends up at least slightly fuzzy.  If you expected the virtual 44-inch TV you'd be watching from nine feet away to be 1080p, you'll be sorely disappointed.  Similarly, if you're hoping to use the AV230XL as a heads-up display with your laptop, think again; the only text we'd suffer with the iWear is subtitles.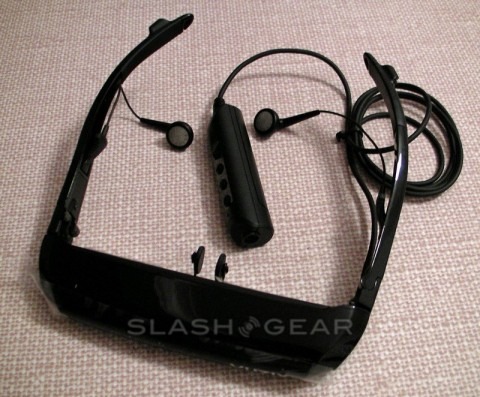 For the sort of videos you might be usually watching on your iPod or cellphone, though, it's unlikely to be a problem.  Audio quality from the included earbuds is nothing special – think cheap inclusion with a PMP rather than anything approaching audiophile – but they can at least be detached and your own headphones used instead.
We had mixed reactions to the Vuzix viewing experience: some liked the open space above and below the headset, which allows you to see what's going on around your head, while others found it distracting and would prefer total enclosure.  The company does sell a rubber attachment that reduces peripheral vision, but we've a feeling that will only make the AV230XL all the more noticeable.
To be honest, it's the fact that they are so noticeable that gives us the most pause for thought with the iWear headset.  Over the course of a 90 minute film you might forget you're wearing it, but those around you certainly won't: expect plenty of Geordi La Forge jokes.  Vuzix haven't really done themselves any favors with the shiny, chunky plastic casing, either.
Still, get past the geeky look and give up on the idea of high-quality visuals, and the iWear AV230XL shows some promise.  It's undoubtedly better than watching video on a small PMP or cellphone display, and the flexibility even for glasses-wearers counts as a surprise bonus.  At $199.95 (or £129.99 in the UK) it's at the cheaper end of Vuzix's range – more money gets you better resolution and a widescreen picture – but those regularly making long train or bus journeys will find plenty to entertain them.  We just hope that Vuzix tone down the in-your-face styling for the next generation.