Vstone launch Robovi-nano entry level 'bot [Video]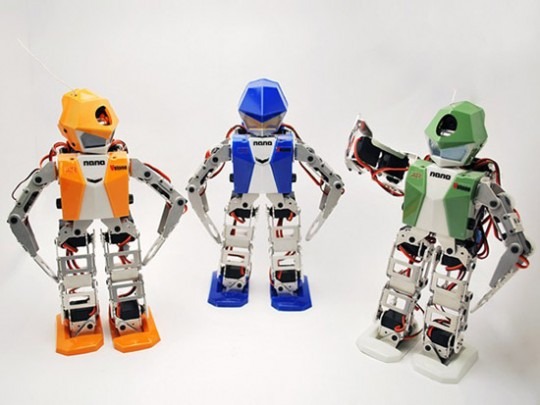 Compared to 2008, we've had something of a dry spell this year when it comes to consumer robotics.  Japanese firm Vstone aren't exactly attempting to remedy this – their target is the prosumer or education market – but we're still embracing their Robovie-nano 'bot with open arms.
Video demo after the cut
The 23cm tall robot has 15 moveable joints, including shoulders, elbows, knees and neck, and integrated speakers for audio feedback.  There's also a range of optional extras, including gripping claw-hands and colored body panels, but out of the box the Robovie-nano is capable of walking and being programmed for autonomous motions.
A motion-control app, RobovieMaker2, can be used to set up patterns and routines.  On sale in Japan now, the Robovi-nano is priced at 49,350 yen (including tax; $541) putting him into the home enthusiast realm, certainly, though probably not much competition for WowWee's robots.
[via DesignBoom]