Volkswagen Golf R Introduced As Model Series Flagship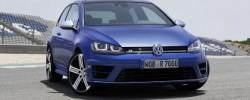 Volkswagen has taken the wraps off its latest Golf entrant, the model series flagship Golf R. This follows the launch of the Golf GTD, Golf Estate, Golf TDI BlueMotion, and the Golf GTI throughout 2013, and as such it isn't surprising that VW is calling this the "year of the Golf." The sports car is set to launch in the fourth quarter later this year.
The Golf R is powered by a new 300 PS TSI 221kW, which Volkswagen says is a full 30PS stronger than the last model while offering 18-percent more fuel efficiency. There's a permanent all-wheel drive system in place as well, which uses the 4MOTION system and fifth-generation Haldex coupling. The sport suspension is also newly designed and sits 20mm lower to the ground.
The steering system is said to be progressive, while buyers will have access to an ESC Sport mode that can be completely shut off for those taking the car to the track. In addition, for the racers out there, the Golf R can include an optional DCC dynamic chassis control system that allows for a driving profile called "Race Mode," which achieves what its name suggests.
The manual option is said to have a 100km/hour speed from 0km of 5.1 seconds, which trumps the previous model by more than half a second. The car is faster for those who opt for the automatic dual clutch gearbox, more commonly called a DSG, hitting 100km/hour of 4.9-seconds. Pushing it as far as it can go, the Golf R hits 250km/hour, a speed that Volkswagen says it is electronically capped at.
The power increases have not resulted in less fuel efficiency according to the group, however, with the Golf R being said to have a lower fuel consumption of 7.1 compared to the previous model's 8.5. The CO2 emissions were also dropped, hitting 165 g/km compared to the previous 199g/km. Those who want max fuel efficiency can then opt for the Stop-Start system with battery regeneration, that, when combined with the DSG gearbox, is said to improve these numbers.
Under that arrangement, the Golf R will then get 6.9 rather than 7.1 in terms of fuel efficiency. Comparing this with the previous model using a DSG, the improvement is likewise about 18-percent better. The model is being offered with quite a few customization options, both inside and out, including special bumper designs, dual-U design bi-xenon headlights, a two-branch exhaust system, and more.
SOURCE: Volkswagen