Vizio PC lineup 2013 refresh hands-on: it's time for touch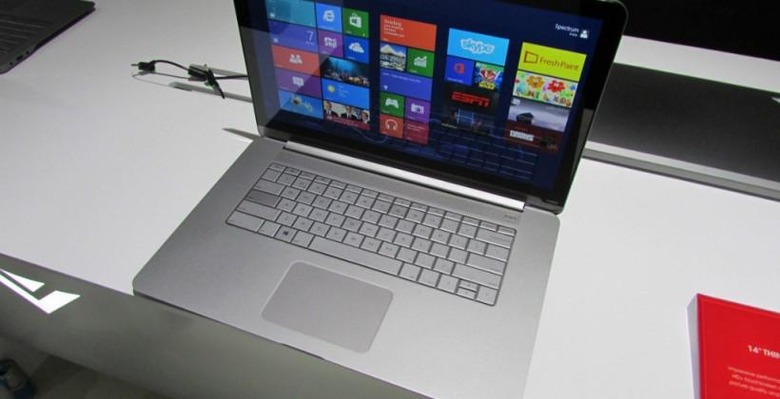 Vizio's new Windows 8 Tablet PC was definitely one of the devices that caught our interest during CES 2013, but the company isn't content with stopping at just tablets. In fact, Vizio seems to have become very enthusiastic about Windows 8, introducing new lines of touch-based notebooks and all-in-one PCs that are ready to take full advantage of the operating system. We got to spend a little bit of time with them when we stopped by for a visit with Vizio, and starting right off, we have to say that we like what the company was showing off.
We'll jump right in with Vizio's Thin + Light Touch line of notebooks. As you might have already guessed, the major focus with these new laptops are Windows 8 and a thin and lightweight form factor. In those two areas, the notebooks do not disappoint, with Vizio offering one with a 14" touchscreen and the other with a 15.6" display. Ready for some great news? 1366x768 resolution is nowhere to be found with these two notebooks, with the 14" model offering up 1600x900 and the 15.6" variant going all the way with 1080p resolution.
Interestingly enough, Vizio will be offering a number of different configurations that you'll be able to choose from depending on your taste. Both the 14" and the 15.6" models will come packing either a 2.4GHz Intel Core i7 processor and integrated Intel HD 4000 graphics, or an AMD A10 4657M clocked at 2.3GHz with discrete Radeon HD graphics. Either configuration should keep things running smooth, especially considering that both come with 8GB of RAM and solid-state drives.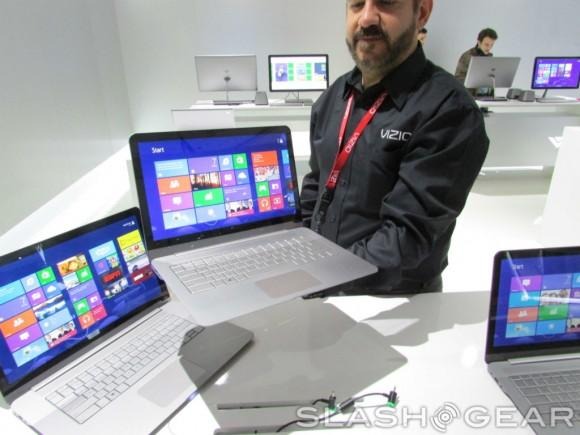 As you've probably already figured out, the full HD display on the 15.6" inch model looks great, though 1600x900 doesn't look bad either – the only thing its missing is the full HD capabilities of its bigger brother. The keyboards on both are excellent, though the buttons do seem slightly bigger than most notebook keyboards, so that might take some getting used to. Both are very slim when they're closed and relatively lightweight, so while we can't exactly classify either as an ultrabook, they're toward the bottom of the size scale for notebooks.
Next up is Vizio's new all-in-one touch line. These all-in-one touch PCs will come in 24" and 27" varieties, with the 24" coming with the option of a 2.4GHz quad-core Intel Core i7 and Intel HD 4000 integrated graphics or a quad-core AMD A10 4600M 2.3GHz and Radeon HD 8750A discrete graphics. For the 27" it looks like the only option is that 2.4GHz Core i7 quad-core and Intel 4000 integrated graphics. Both will come with a 1TB hard drive and a 32GB SSD to offer a performance boost, so don't plan on storing too much stuff on that SSD.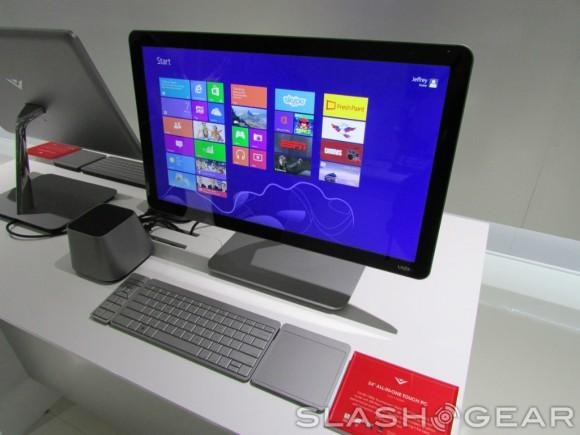 While both screens look excellent and, like the new Windows 8 notebooks on the way, offer 10-point multitouch, there's one feature in particular that's very interesting about these all-in-ones: the power supply also doubles as a subwoofer. With many all-in-one PCs, we often run into issues with sounds and tinniness, but that subwoofer will give Vizio's all-in-one touch PCs a certain boost that other packages lack. There are a number of ports on the base, meaning that you won't have any ugly cables sticking out of the sides of your computer. To be specific, both models feature two HDMI ports, and Vizio told us that users won't need to boot to Windows before switching to their HDMI inputs.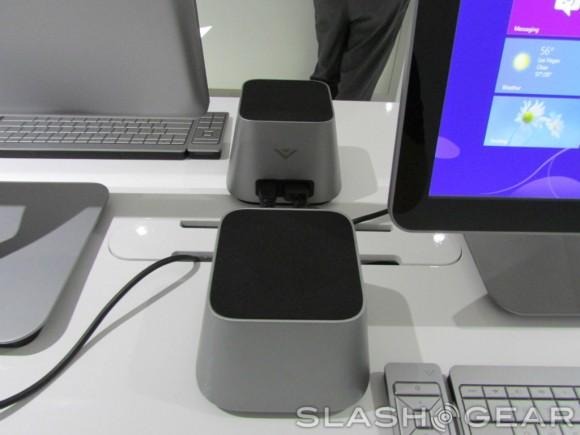 Those HDMI ports will come in handy if you want to watch a movie on the excellent screens, and Vizio is trying to make this a true-to-form multimedia center with the addition of a remote. The keyboard is pretty similar to the ones we saw on the company's new notebooks, at least from an aesthetic standpoint. Obviously, all-in-one PCs aren't for everyone, but if you've been in the market, we're seeing some great things coming from Vizio with these computers.
So, even though the Windows 8 tablet was the Vizio product that originally caught our eye, we ended up impressed with the notebooks and all-in-one PCs the company will soon be bringing to the table. Vizio should give itself a pat on the back, because as far as we're concerned, the company managed to stand out in a sea of other manufacturers that are ready and willing to show off new products at CES 2013. Be sure to check out CES portal for even more from the show!