Vizio Alexa control goes live for 4K TVs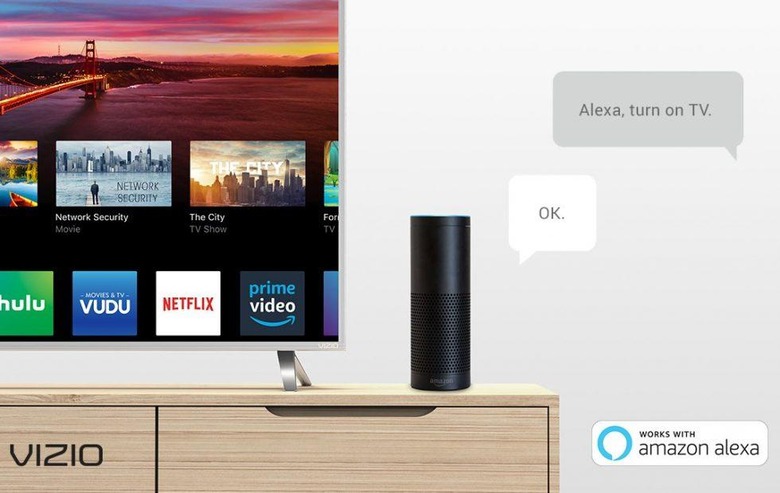 Vizio TVs are learning to play nicely with Amazon Alexa, with a new skill for the virtual assistant that enables voice control of select sets. The Vizio SmartCast skill for Amazon Alexa can, when enabled on an Echo speaker or other device that supports the assistant, remotely turn the TV on and off by voice, as well as replace other features you'd usually have to reach for the remote for.
For example, owners will also be able to change the channel and choose different input settings, handy if you want to switch between a Blu-ray player and your console of choice. It'll also control volume, and in select apps on the TV there'll be support for playback functions too. That includes the basics, at least, like play/pause, fast forward, and rewind.
Initially, the new Alexa skill will be supported for Vizio's 2016 and 2017 range of SmartCast P-, M-, and E-Series displays, all with 4K resolution. In the coming weeks, meanwhile, the company says that the 2018 Vizio SmartCast Full HD and HD models will also get support in a subsequent update. In total that's sixteen sets supporting Alexa today, with more to come down the line.
While Vizio isn't the first home entertainment device company to embrace Alexa, it is one of the most attainable in terms of price. A 43-inch SmartCast TV with 4K Ultra HD resolution can be had for under $380, for instance, complete with built-in Chromecast functionality for streaming media from a smartphone or tablet. If you're in the market for something larger, its 75-inch E-Series 4K sets – also with SmartCast – can be had for under $1,400.
Amazon's spread through the living room has been gradual, but increasing numbers of connected devices can now answer Alexa's command. On the one hand, some integrate the assistant completely with native support, like the Sonos One speaker we compared with Apple's HomePod earlier this week. On the other hand, like Vizio, some companies are using Amazon's own Echo devices, like the cheap Echo Dot or recent Echo Spot with touchscreen display, as an interface.
Back in January, meanwhile, Vizio announced support for the Google Assistant on its SmartCast sets as well as its soundbars and speakers. That meant those with a Google Home or Google Home Max could control audio and video playback by voice, as well as turn TVs on and off. Thanks to Chromecast integration, it's also possible to ask for a particular movie from Netflix or YouTube, and have the TV switch itself on and automatically begin playing.