Visionman introduces water-cooled gaming PC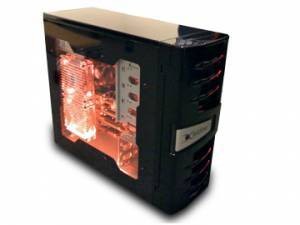 As if Visionman doesn't have enough PCs under their belt, they've just introduced a new product to their line up that is cooled by water. The Widow Red Blizzard is a gaming PC that is sure to attract attention.  
This PC has the latest specs, including a dual-core Intel 2.5GHz Core 2 Duo processor, 2GB RAM and a 500GB hard drive. The main attraction, however, is the system's cooling, which is a quiet liquid system–a perfect choice for overclocking.
Other specs include a NVIDIA GeForce 9600GT video card with 512MB memory and PhysX support, a 7.1 channel HD sound card, Ethernet jack, a 20x DVD burner, a 580W power supply, four USB 2.0 ports, a PCIe x16 port, a PCIe x1 port and two PCI card slots. And this PC is good looking as well with a new Widow casing that features brushed aluminum and red LEDs. The Widow Red Blizzard will cost you $999.
[via Electronista]