ViewSonic ViewPad 10pro Hands-On [Video] - Launch Time!

What you're about to see is a video that actually contains a bit of hands-on time with three tablets, the ViewSonic ViewPad being the only one of the bunch we'd not yet gotten to see in-person before. The initial international launch of the tablet trio ViewSonic ViewPad 7X, 10pro, and 7E took place on the first of September, and this look at the set comes right beside the display-intensive company's announcement of a release here in the USA. This isn't the first time we've come across the 10pro for certain, the idea that a Windows 7 tablet would be able to also run Android being a rather enticing value proposition for developers. Have a look at what it's all about and see if it's the tablet for your dual-OS future.
You can check out our ViewSonic ViewPad 7x Android Tablet Hands-on [Video] and our ViewSonic ViewPad 7e Android Tablet Hands-On [Video] as well. This trio, as presented in NYC at Pepcom's Holiday Spectacular 2011, very much signifies ViewSonic's intent on getting into the tablet business with a bang, each of these tablets competitively priced and sized to take a potential grab at several nearly untapped market categories. The 10pro, again, we've been following for the longest, our most recent meeting being a full details post from just weeks ago.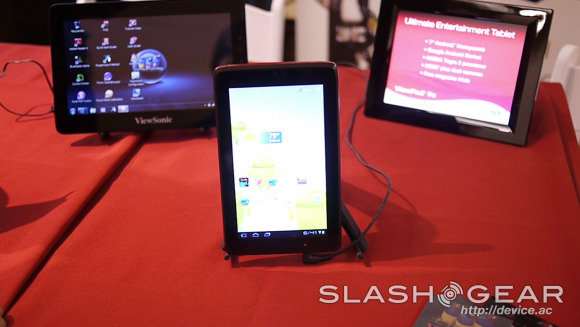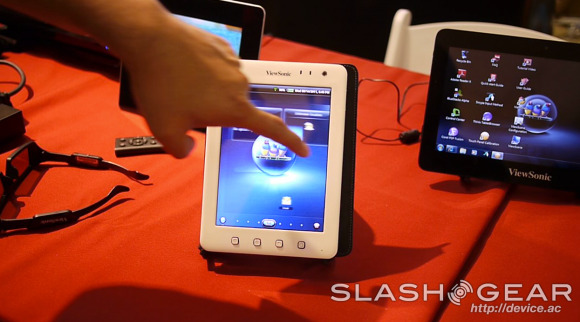 It was all the way back in October of 2010 when the original ViewSonic ViewPad 10 was launched, just that November being the release announcement for the US market, its good buddy the original ViewPad 7 right alongside. It was also back then that the VP of ViewSonic said he thought that Steve Jobs was afraid of 7-inch tablets. Was it true? We're thinking no. Are these 7-inch tablets shaping up to be relatively interesting? That much is certainly true.
Back in February of 2011 at Mobile World Congress 2011, we first saw the ViewPad 10pro, what was then mistaken by many as a dual-booting tablet running both Android and Windows. What we know now, due to the May 30th official announcement as well as the May 30th Bluestacks announcement that the 10pro is running Android on top of Windows 7. BlueStacks is explained by SlashGear earlier this year back when it was formally introduced – you'll be seeing more of it in the future, I guarantee.
[vms f98fd178a9defd0efa07]
What you're going to see in the video above is a bit more information on the 10pro as well as the most updated information on the other two tablets coming out in the USA soon. You'll also hear yours truly speaking about SPB Shell 3D, an awesome homescreen replacement app made by the same people that have worked with ViewSonic to create the unique interface you seen on the 7e and the 7x!
ALSO feel free to see the rest of our hands-on videos from the event in our Pepcom Holiday Spectacular 2011 portal!