ViewSonic 120Hz LCD Prototype: Minimizes Ghosting & Blur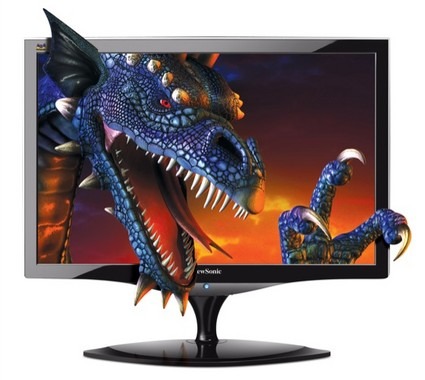 Attempting to demonstrate a new, ultra-fast refresh 120Hz LCD monitor with a still image is tricky, so ViewSonic have done the next best thing a slapped a big dragon on there instead.  The VX2265wm is a 22-inch prototype with Professional Color Certification, 1680 x 1050 resolution, 300 nits of brightness and a 1,000:1 contrast ratio; it also boasts a 3ms gray-to-gray response time.
That means faster picture changes, less ghosting and fewer motion artifacts.  It's compatible with NVIDIA's GeForce Stereoscopic 3D gaming technology, but ViewSonic are suggesting production versions based on the VX2265wm's technology would be ideal for entertainment, computer animation and precision graphic work.
Connectivity includes dual DVI, and there are integrated 2Wx2 stereo speakers.  ViewSonic is planning a range of LCDs using the 120Hz technology that should hit stores later on in 2008, but it's yet to reveal what sort of pricing we can expect.
Press Release:
SAN JOSE, Calif., Aug. 25, 2008 – ViewSonic® Corp., a worldwide leader in display technologies, has once again demonstrated display leadership with the unveiling of its first 120Hz desktop LCD technology at NVIDIA's NVISION 08 event in San Jose, Calif. (www.nvision2008.com). The 22-inch 120Hz prototype delivers rich, colorful, blur-free video performance on traditional gaming, entertainment and graphic applications, while also delivering eye-popping stereoscopic 3D when used with NVIDIA's GeForce Stereoscopic 3D gaming technology.

The 22-inch 120Hz display coupled with 3ms gray-to-gray response time provides much better Motion Picture Response Time (MPRT) than the typical "fast-response" displays on the market today, virtually removing the appearance of motion artifacts and ghosting. This makes it the LCD of choice for extreme gaming, entertainment, computer animation, precision graphic work and traditional computer applications. Features, such as integrated 2Wx2 stereo speakers and Dual Link DVI digital input, combine to expand entertainment options and make the monitor the must-have display for 3D gaming.

The display offers excellent front-of-screen performance, including Professional Color Certification, 1680×1050 resolution, 300 nits of high brightness and 1000:1 contrast ratio, as well as wide viewing angles for getting the most out of fast action games, downloaded video content and full-length movies. When coupled with NVIDIA's GeForce Stereoscopic 3D technology, the ViewSonic 120Hz display provides game enthusiasts with realistic depth, intense motion, rich graphics and detailed images that literally leap off the screen.

"ViewSonic continues to deliver innovative technology that leads and supports the growing trends and demands in digital entertainment," said Jeff Volpe, vice president of Global Brand and Emerging Technologies, ViewSonic. "The 120Hz technology will deliver superb front-of-screen performance and will drive new standards in desktop entertainment igniting the next evolution in digital viewing capabilities."

The first displays with ViewSonic's 120Hz technology are expected later in the year at select resellers, retailers and etailers. Pricing is not yet available.