Video: SmartThings working with Gear S voice prompts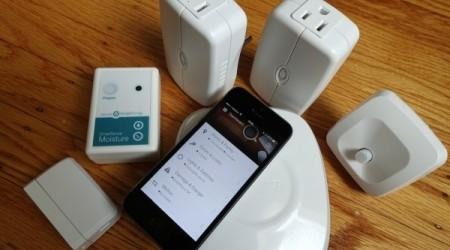 In an ideal connected home, you open the door, and the lights turn on. Maybe the TV also comes on, and flips right to the game. Your heater kicks in if it's cold, and your phone silences itself. At least to some degree, that's what we're looking for with regard to home automation and the Internet of Things. At Samsung's Developers Conference today, they displayed their concept for what the connected home would be via SmartThings, the platform they purchased not long ago.
As you can see via the video below, SmartThings CEO Alex Hawkinson walks the attendees through a very similar scenario as described above. You can program you home to do whatever you'd like via connected devices, the cloud, and SmartThings. We'd previously seen this kind of thing via IFTTT, but this sidesteps that third-party system for many situations.
If you're really ready to get tucked into the Samsung ecosphere, you can even "talk to" your home using voice recognition on the Galaxy Gear S smartwatch. Simple commands could trigger presets, like telling your home "goodbye" would let it know you're away.
In our review of SmartThings, Hawkins told us voice functionality was on the way. Guess this is what he was talking about.
Given all the things you can already connect to SmartThings, the platform is moving along nicely. It's still early days for the connected home, but SmartThings is right there in the mix.