VidaBox RoomClientHD compact 1080p home media streamer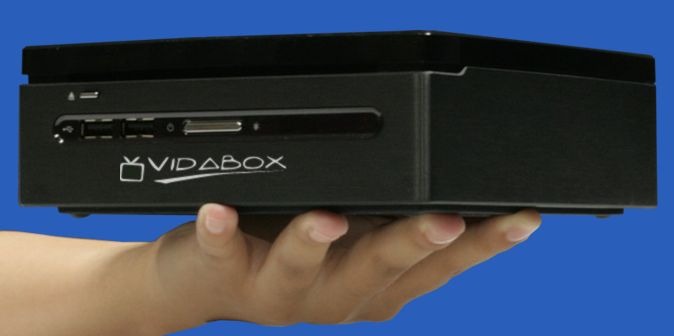 VidaBox have announced the RoomClientHD, a compact high-definition video streamer capable of receiving full 1080p and lossless audio from any of the company's media servers.  With an optional slot-loading Blu-ray drive, the RoomClientHD measures 6 x 6 x 2-inches but still manages to pack a DVI port for HDMI/DVI/VGA output, gigabit ethernet, six USB 2.0 ports, an eSATA port and audio inputs and outputs.
Functionality includes PVR control, copying of Blu-ray or DVD discs to a remote server from the streamer itself, audio and photo slideshows, and Dolby Digital, DTS, DTS-MA, and Dolby TrueHD audio.  It's also a full Vista Home Premium PC.
Best of all, it's plug'n'play so, assuming you've already got a VidaBox server, installation shouldn't require too much head-scratching.  No word on pricing, but a full VidaBox system is unlikely to be too cheap.
[via eHomeUpgrade]