VIA Nano X2 dual-core super frugal chip gets official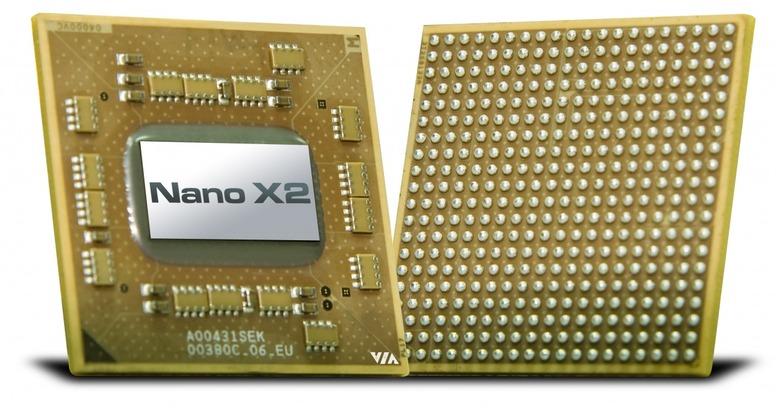 AMD and Intel aren't the only company with new, dual-core processors on the mind. VIA has announced its latest chip, the VIA Nano X2, offering two out-of-order x86 cores, native 64-bit support and an 800MHz bus, intended for energy efficient desktops, all-in-ones and notebooks.
The X2 pairs two of VIA's Isaiah cores together, which promise to be more power efficient than rival chips as well as supporting, on-die, things like AES encryption and random number generation. What remains to be seen is how much impact on the mainstream market the company can manage, especially in the face of the hundreds of design wins that Intel and AMD are both claiming with their new platforms.
Press Release:
VIA Announces VIA Nano X2 Dual-Core Processor

Brings advanced multi-core performance to energy-efficient PCs without raising the heat

TAIPEI, TAIWAN, January 4, 2011 – VIA Technologies, Inc, a leading innovator of power efficient x86 processor platforms, today announced its latest VIA Nano X2 processor for mainstream PC markets. Based on a 40 nanometer fabrication process, the VIA Nano X2 delivers better computational performance and improved multi-tasking ability without consuming more power.

"The VIA Nano X2 processor arrives at a time when software architectures are now optimized to for multi-thread computing," commented Richard Brown, VP International Marketing, VIA Technologies, Inc. "Improvements in semi-conductor fabrication means we can now double the number of processor cores while maintaining the same low energy consumption levels that our customers are used to."

VIA Nano X2 processors are targeting a range of PC products that include desktop, all-in-one and mobile notebook designs while extending the reach of VIA's processor portfolio into multitasking and performance-oriented segments. VIA Nano X2 processors offer end-users the most optimized, power-efficient computing experience on the market today.

VIA Nano X2 Processor

VIA Nano X2 processors are built using the advanced 64-bit, superscalar 'Isaiah' architecture that powers previous single-core VIA Nano processors, adopted worldwide for a growing number of market-leading mini-note, small form factor desktop, and energy-efficient server designs.

Featuring two out-of-order x86 cores, VIA Nano X2 processors deliver up to double the performance on multi-thread optimized applications and also come with SSE4, native 64-bit support, VT CPU virtualization technology, and VIA PadLock™ hardware security features. VIA Nano X2 processors are also pin-to-pin compatible with previous VIA Nano, VIA C7, VIA C7-M and VIA Eden processors, facilitating easy upgrades of existing designs.

Product Highlights

· Advanced multi-core processing

· Power-efficient out-of-order x86 architecture

· Full support for 64-bit operating systems

· High-performance superscalar processing

· Most efficient speculative floating point algorithm

· Full processor virtualization support

· Advanced power and thermal management

· VIA PadLock™ hardware security features

· Pin-to-pin compatibility with other VIA processors

VIA Nano X2 processors are also compatible with all VIA media system processors and digital media chipsets including the latest VIA VX900 and VIA VN1000.

VIA Nano X2 Availability

VIA Nano X2 processors samples are currently available for OEMs and motherboard vendors, with systems featuring the processors expected to arrive in Q1 2011.