Verizon Puts Moto 360 With Metal Bands Up For Pre-Order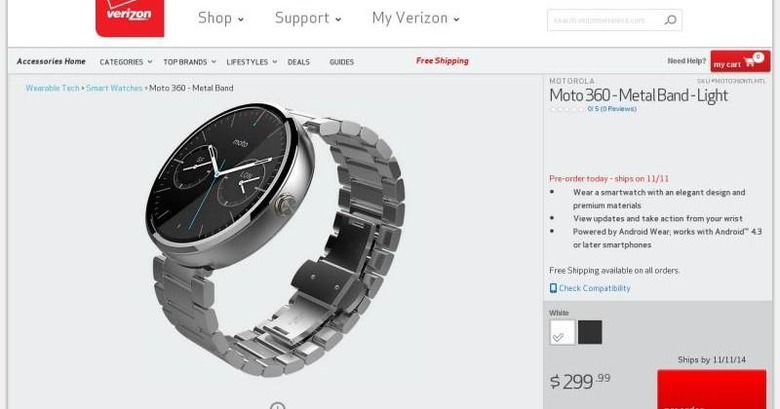 Perhaps Verizon just go too enamored by the Moto 360's beauty. Or maybe it's just too eager to get ahead of everyone else. Whatever the case may have been, the carrier has made the metal band variants of Motorola's smartwatch quite ahead of the announced Fall schedule.
Classy metal straps for the Moto 360 are coming, that much is known. But Motorola's official statement is that they would arrive later in Fall. It was also revealed that Best Buy would be carrying these models for $299 each. Motorola would then later out metal bands that can be bought separately for $79. It seems, however, that Verizon has a different schedule in mind.
The smartwatch variants are already up for pre-order, in black and silver, and do cost $299 as earlier revealed. Other than those bands, it is practically the same Moto 360 that you've read abut last week, which means it is definitely a work of art. Motorola notes that the wireless charging dock has been designed with metal bands also in mind so prospective buyers need not worry about their smartwatches not fitting with a different band. The product, however, will only start shipping November 11, so it's quite a long wait.
Those who can't wait or can't stomach the price, even for an $79 standalone band, can also opt to use their own choice of 22 mm strap for the smartwatch. That said, Motorola cautions against the use of non-certified metal bands with the Moto 360 since those could adversely affect the radio antenna hidden inside the watch's bezels. But if you're in a pinch or quite eager to test it out for yourself, you could try out your luck and hope for the best. Otherwise, perhaps it might best to get it from Verizon, or from Best Buy and Motorola soon.
SOURCE: Verizon