Verizon HTC Imagio XV6975 leaks: WinMo world-phone landing October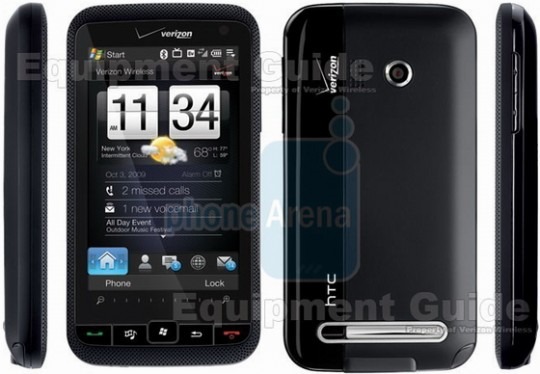 Images of Verizon's first handset to support VCast Mobile TV – provided by Qualcomm's MediaFLO network – have leaked.  The HTC Imagio XV6975 is a touchscreen Windows Mobile 6.5 device, with a 3.6-inch WVGA touchscreen, 5-megapixel autofocus camera and a 3.5mm headphone socket.
There's also WiFi and HTC's usual choice of 524MHz processor.  No details on exact internal memory, but there's a microSD card slot, while Opera Mobile and TouchFLO 3D are both preloaded.
To be honest this is looking like a pretty straightforward WinMo device, made moderatly more interesting by virtue of its "world phone" dual CDMA/GSM capabilities which should be of some interest to those who regularly travel but still like to stick with Verizon.  No word on price or exact availability, but phoneArena have heard murmurs of first half of October.
[via Unwired View]