Verizon gives birth to first 4G LTE C.O.W.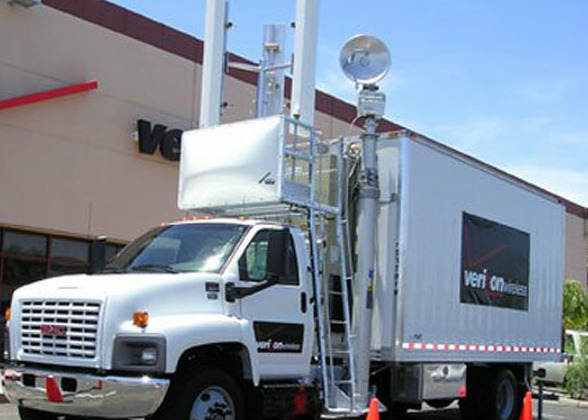 No, Verizon did not suddenly turn into a holstein – instead, what we've got here is the start of the first 4G LTE Cell On Wheels, right in the heart of Florida. This vehicle will be projecting awesome LTE connectivity wherever it may roam in Florida, and the mobile carrier is promoting said tower with plenty of barnyard-esque words and phrases. "Delivered" at Verizon Wireless' "super-switch" facility in Pembroke Pines, the brand new C.O.W. "weighs in at a healthy 24,000 pounds and measures 1,080 inches, including its telescoping antenna tower." It could also walk immediately after birth, what a smart beast!
What this newest of Verizon's ever-expanding army of mobile projection units will do is be deployed to select locations across the state when demand grows to a certain point in that area. Wireless coverage and service spikes in areas around sports events, tourist destinations, festivals, and all manner of flea markets of course these days, and Verizon will now be there to keep the citizens involved totally covered. Also this truck will be available to drive to emergency spots in public areas hit by heavy weather like hurricanes or other disaster-incurring events.
Florida is already relatively well covered with LTE services ready to go in Miami, Fort Lauderdale, West Palm Beach, Tampa Bay, Orlando, Jacksonville, Tallahassee, Gainesville, Sarasota-Bradenton, Daytona Beach and Lakeland. This new C.O.W. is sure to keep Verizon in the books as one of the best-connected networks in the state, and more C.O.W.s are being produced as we speak.
What do you think? Would you like a C.O.W. in your front yard?