Verizon Galaxy S III hands-on with 4G LTE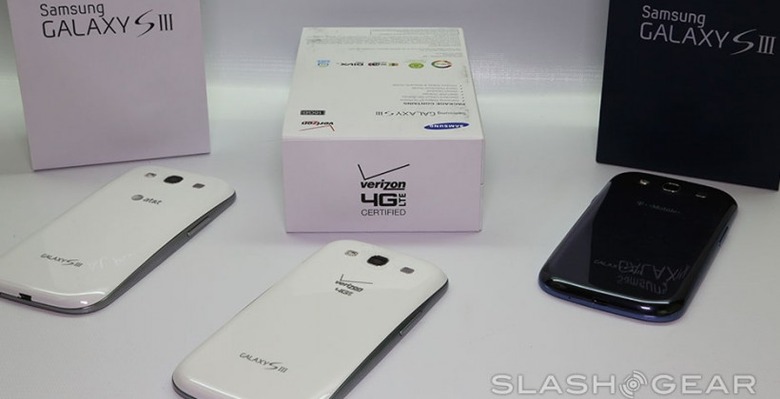 This week the Verizon 4G LTE version of the Samsung Galaxy S III smartphone is arriving here on our review bench as well as in the homes of thousands across the USA. What we're going to do for you right here at the start is take a moment to get you some comparison speeds on each of the main three Galaxy S III's USA carriers: Verizon, AT&T, and T-Mobile. Have a peek at one of the only factors that will allow you to tell these devices apart.
First let's check on the Verizon unit's 4G LTE. This network has been the most reliable 4G LTE network in the past, but has AT&T catching up quick for coverage. This Galaxy S III unit is the latest to hit the shelves and also the only to carry Verizon's specific selection of carrier-based apps (with one bonus). First let's have a peek at some data speeds, starting with Verizon and checking in on AT&T and T-Mobile as well.
Verizon Speeds: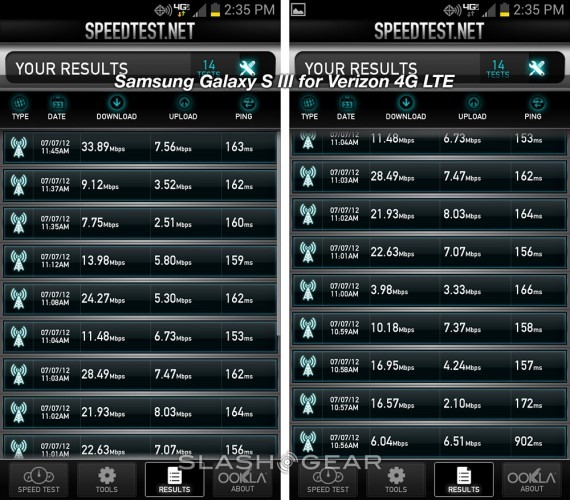 Next we've got the AT&T version of the Galaxy S III, here again with 4G LTE. Each of these speed tests are being performed in Arizona in the exact same spot and that tests like these are going to be accurate only to a certain degree. The only perfect test would be hitting every single spot in every single city in the United States and testing each phone from each of those spots, taking an average then of all the speeds. By that time there'd be a Galaxy S IV, so for now we'll be just testing from one spot.
AT&T Speeds:
UPDATE: Checking the speeds for AT&T 4G LTE at Fashion Square Mall in Scottsdale as well as a small area in Mesa (seen below). You'll find that the speed tests show significantly more impressive results. These results are less consistent than Verizon's, but the battery life on the AT&T version of the device is way better when used regularly. You'll have to decide which one is more important to you!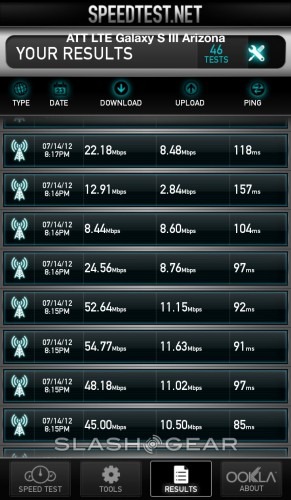 Finally have a peek at T-Mobile's Galaxy S III with their own brand of 4G. This unit is, again, just like the others in almost every single way save for the carrier billing, some carrier-based apps, and the network speed.
T-Mobile USA Speeds [only getting EDGE in our test location]: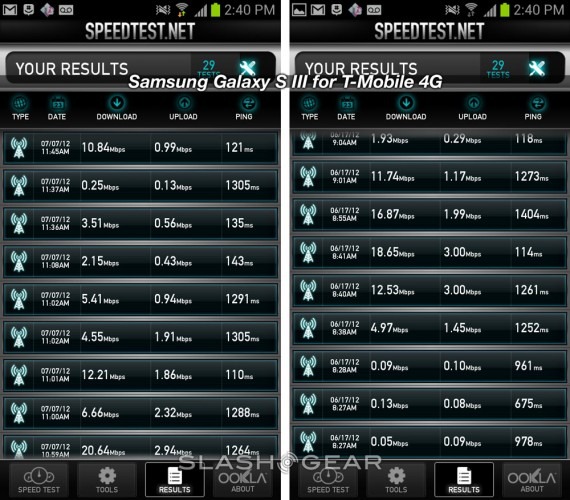 Take special care to notice the massive difference between these three carriers. In the Verizon version, we're seeing speeds in both upload and download that blow the other models out of the water. Of course you've got to take into consideration that these tests are, again, not done in the most ideal location for each carrier, but you're not necessarily going to be in the most ideal location for your carrier when you purchase the device either.
If you live in a fabulous place for T-Mobile's 4G network and there are no Verizon towers to be found, you might have a different decision to make. That'll be extremely rare though, of course, so more than likely you'll want Verizon if you want the fastest data speeds in the greater part of the USA. AT&T isn't doing so bad themselves lately as well.
Another thing to consider is battery life. At the moment, it appears that heavy usage is not boding well for the Galaxy S III on Verizon, as shown in our first outing here: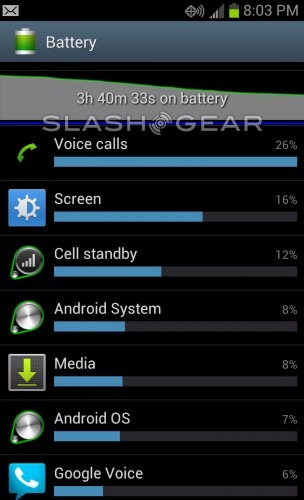 Standby battery usage wasn't much better, as shown in this overnight test: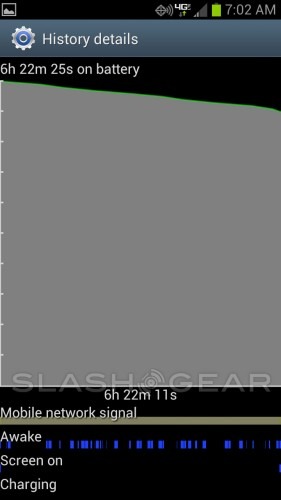 The Verizon version of the GSIII comes with the Facebook-connected app Color. This is unique to the Galaxy S III lineup.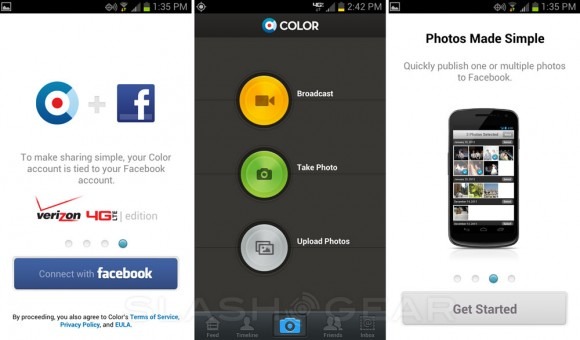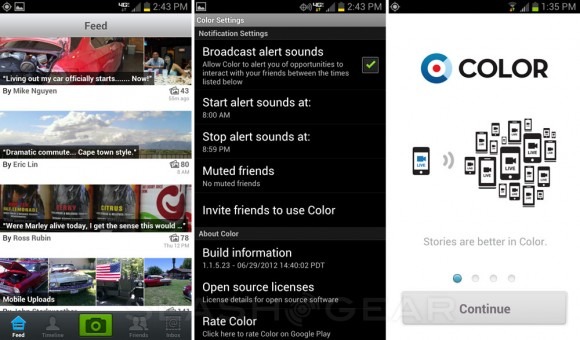 The full set of apps comes in three screens in the app drawer as seen here: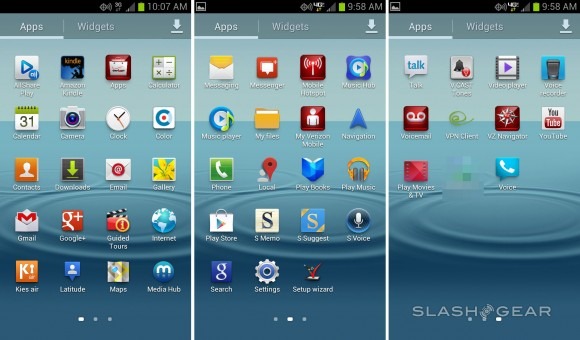 Essentially all Verizon has done is to add Color and their set of four constant apps:

One strange bug we've found thus far is a broken lock-screen feature – with the Galaxy S III you're able to set a timer on your lockscreen after your screen has shut off. You can set your screen to time out after 5 minutes, then your lockscreen to 5 minutes after that. This feature exists for people who don't necessarily want their screen on constantly, but do need quick access to the screen quite often if they've just used it recently. When used in combination with the basic swipe lock on this version of the Galaxy S III, the lockscreen does not appear as it should. This will likely be fixed in the first software update.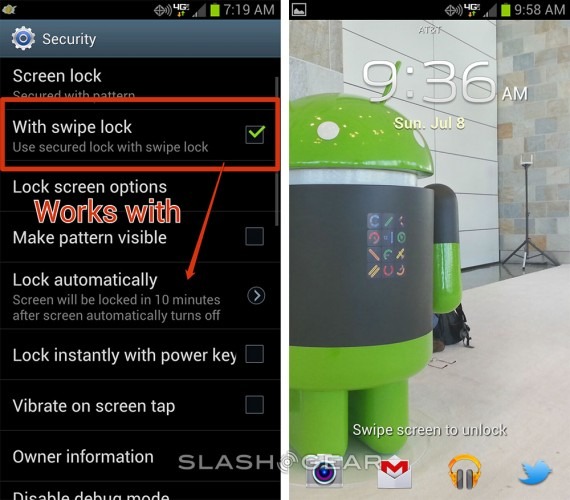 Finally, be sure to check out our AT&T and T-Mobile Samsung Galaxy S III review as well as our Galaxy S III international edition review to make sure you've got a full round view of each of the ever-so-slightly different models. Also be sure to check out the timeline below to stay up-to-date on all things Galaxy S III as the device in whatever iteration you choose makes its way to the palm of your hand!