Verizon announces three new LG devices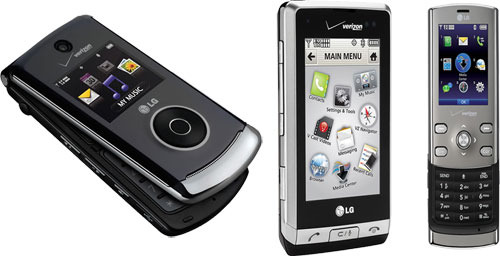 Verizon and LG are wowing us today with a few new entrants onto Verizon's network. The new devices are all pretty nice, but the showstopper is no doubt the Dare. The Dare is an all touch device, that will have a 3.2 mega pixel camera with auto focus, and will sport on board image editing. The Dare is a PRADA variant, it is similar to the AT&T offering, of the LG Vu. It is expected to launch next month.
The LG Decoy is the device on the far right. This device, is very unique. It is the first phone to ever be sold in the U.S. that has a stow away Bluetooth headset on the back. This headset will charge when the phone is plugged in, so as not to waste your phone's battery life. The Decoy will launch on the 16th.
Last but not least, is the first phone. The LG Chocolate 3. The Chocolate 3 is very different from its brethren in the Chocolate family, as it abandons the slider form factor in favor of a flip. It will have 1GB of internal memory, and will also have MicroSD expansion. It as well is expected to launch next month.
[Via SlashPhone]