Verizon iPhone 4 Announced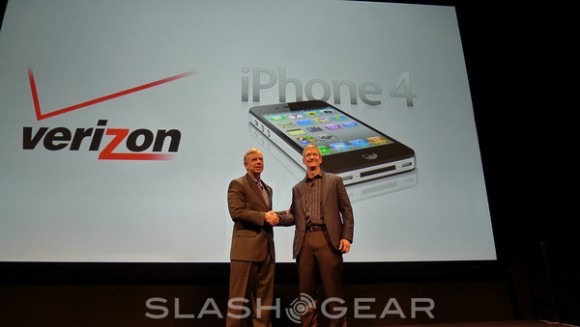 We're sitting inside (well, a couple of us are inside,) and we're waiting for the event to begin – this should happen momentarily. For not though, have a look at the few pics we've already snapped up and note that our main man Lowell C. McAdam is announcing the show. He says that Verizon is to bring their broadband power to all kinds of screens on all kinds of devices – that LTE will blanket the US in the next three years – that LTE amps up the speed by 10 and cuts latency in half. He notes that LTE is capable of meeting the needs of the most demanding media customers that that it puts Verison at the hub of the wheel of what is driving the industry.
He notes that they're today the bringing the fruit of the high tech market – and that giant is industry leader Apple. They note that they're excited about their collaboration with Apple and that the Verison iPhone 4 launches early next month!
He then asks Apple COO Tim Cook to the stage, and calls him "a friend and a colleage." Tim begins: The iPhone has changed the expectations of what you can carry in your pocket. (the image on the screen, we note, looks exactly like the AT&T version.)
Also check out our liveblog! http://live.slashgear.com/