UK Braces for Pink PS2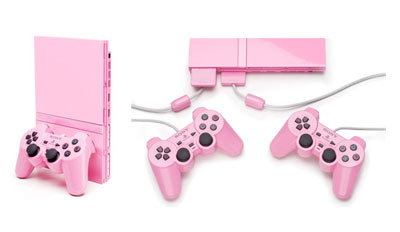 Alright Sony, enough with the insanity. As if all the issues surrounding their upcoming Playstation 3 console didn't already have us scratching our heads, looking for their logic, now they've decided that releasing a Playstation 2, in pink, during the same time that the PS3 is debuting it a good idea. Please Sony, show us what you've been drinking so we know that this isn't a random bout of dementia.
All joking aside, the pink PS2 is Sony's attempt to woo more female gamers to the Dark Side Sony camp. Aside from the obvious changes in aethetics, the console appears to just be a normal PS2 console, though it will come bundled with a pink controller, pink memory card, and some crazy game called Singstar Pop. All this should run UK buyers around $250 USD, so if you have a gamer girl who needs something that's a bit more expressive that a boring ol' black PS2, now you're in luck. Just don't be surprised when the sanity police come looking for you.
[via Gizmodo]