ToughTech Duo QR Review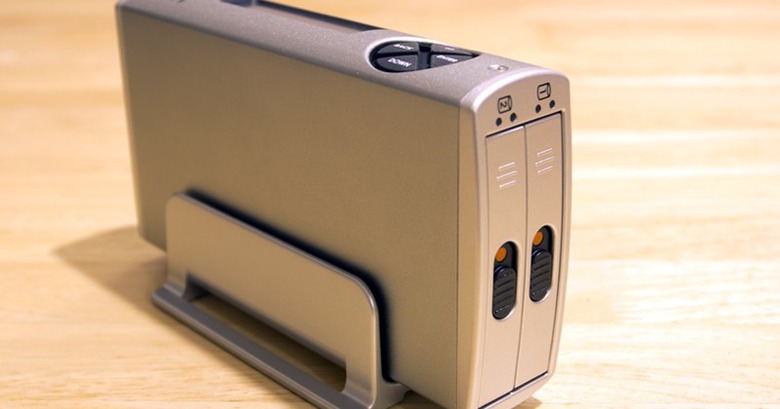 The ToughTech Duo QR portable storage system from CRU-Dataport features a two-drive RAID array that packs large capacity and high performance into a tiny yet rugged package that's easy to setup and use. The device is designed for professional photographers and digital media artists who need to carry and protect their digital assets while out on the field or in the studio.
Hardware
The ToughTech Duo QR model that we got to test sports dual 750GB hard drives for a total capacity of 1.5TB if configured as RAID 0. The hard drives are speedy at 7200RPM and compact at 2.5-inches in size. They are also easily swappable from the front-loading trays without the need for screws, although the drives can be screwed down to the trays for environments where extra stability is required. To remove a tray, you simply slide the black latch to unlock, which will reveal a red circle, and then you press in on the lid of the tray to pop it out.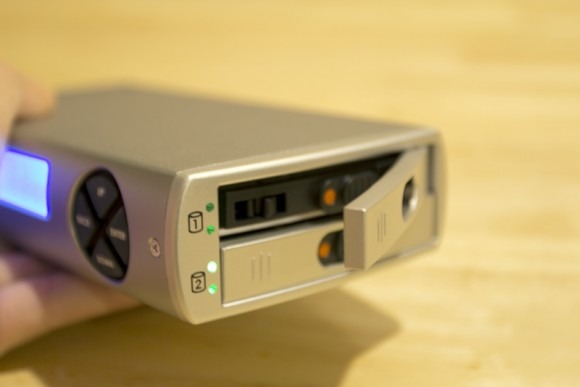 The compact aluminum chassis measures only 6.3-inches by 3.5-inches by 1.3-inches and weighs roughly 1.75lbs. It's built tough to withstand vibration and shock and also uses a passive thermal design for optimal heat dissipation without an internal fan. The large LCD display on the side of the device offers temperature status, monitors drive health, and allows you to configure RAID mode. On one side of the LCD is a black rubberized circular navigation control with four buttons, while the other side has three LED indicators for Power, System, and RAID.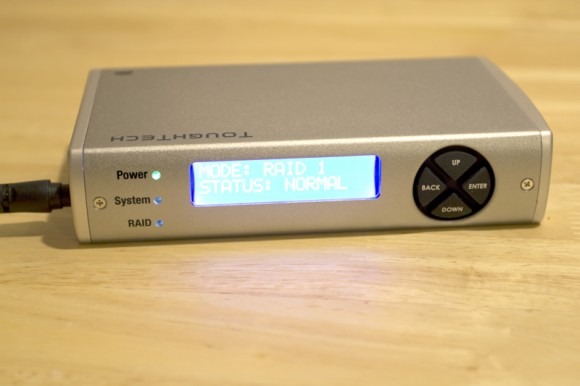 Ports are located on the back side of the ToughTech Duo QR and include two FireWire 800 ports with FireWire 400 backwards compatibility, one eSATA/USB 2.0 combo port, and a power jack just below the power on/off switch. There's also a small slot designed to work with a Kensington security cable lock.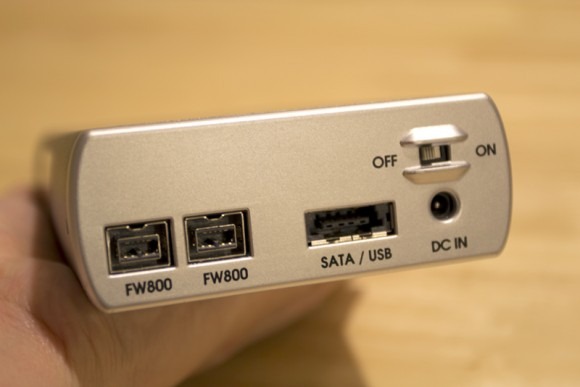 The device pretty much comes with all the cables and power adapters that you'll need. Included in the box are two FireWire 800 cables, one USB 2.0 cable, one eSATA cable, and an AC adapter with swappable prongs for outlet compatibility all around the world, accepting 100-240VAC. There's also an aluminum stand with rubberized grips that you can use to hold the ToughTech Duo in an upright orientation. The device can also just lie flat on its side, if you opt not to use the stand.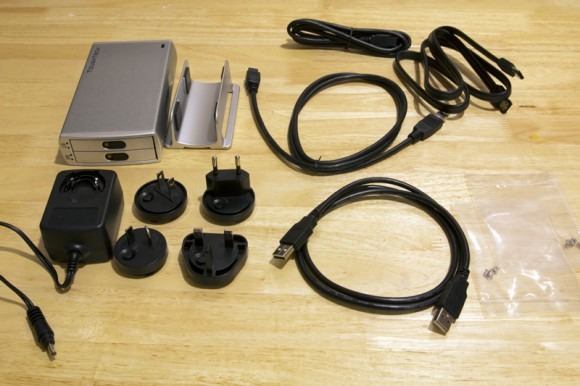 Performance
The ToughTech Duo performed well with fast read speeds thanks to the 7200RPM hard drives and a fast Oxford 936 chipset. We first tested the device with a USB 2.0 connection and a RAID 1 configuration, meaning that the device would be writing the same information to both drives in real-time. With this setup we were able to transfer a file that was 2.28GB in 1 minute and 10 seconds, which translates to about 32MBps. Transfetring the same file back to our computer took slightly less time.
Performance results were very similar in a RAID 0 configuration. With the FireWire 800 connection, speeds for the same 2.28GB file transferred in about 43 seconds, which translates to about 53MBps. The nice thing about the FireWire 800 is that the device can be bus-powered by this connection, but not so via USB 2.0 or eSATA connections. Hence, for either of those two setups, you will need to also hook up the AC power adapter.
Wrap-Up
The ToughTech Duo QR is a great high capacity portable external hard drive that's rugged, compact, and offers a simple to use RAID 1 solution along with easy-to-swap hard drive trays. Its tough chassis and small size makes it very convenient for traveling, while its small footprint and sleek design make it a welcome and unobtrusive addition to the studio as well. It also comes with a slew of connector cables, power adapter heads, and optional small screws for clamping down the drives to the trays when extra stability is needed.
The only complaints might be its lack of a USB 3.0 port and USB bus-power support. The device is also a bit costly with prices starting at $499, although a look around shows that our model with the two 750GB drives lists for about $763. Although costly, the device can be a good choice for a media professional that demands portability, ruggedness, large capacity, and easy-to-use reliable data protection and redundancy.