Toshiba 55-Inch TL515 Series Natural 3D TV Hands-On [Video]

The same company that brought you the world's first consumer-targeted 55-inch glasses-free 3D display, Toshiba, now brings you the TL series value-minded 3D Smart TV. While this television does require that you wear the lovely 3D glasses if you're going to get a perfectly 3D look at them, this television is out in several sizes (32-inches up to 55-inches) and isn't going to blast the goodness out of your wallet – and it's got built-in Wi-fi connectivity so you can run all the streaming apps you could ever desire.
We got the chance to go hands-on with this television this past week at Pepcom's 2011 Holiday Spectacular in New York City and have come back with a video that runs you through the switches. What you've got here is a 3D TV that's also "smart", smart with the ability to run Yahoo widgets and a slew of other TV-minded applications that'll have you Netflixing in no time.
[vms ad797d42350c904d7307]
You'll also be working with full 1080p resolution playback on all the video you've got set up to do so, 240hz, local dimming, and of course, Toshiba's Natural 3D technology. This lovely way of viewing the 3D universe is done through 3D glasses, four sets of which come with the set right out of the box. You can also purchase a "Party Pack" of glasses for right around $60 USD (depending on where you shop). Look like a pretty neat television set to you?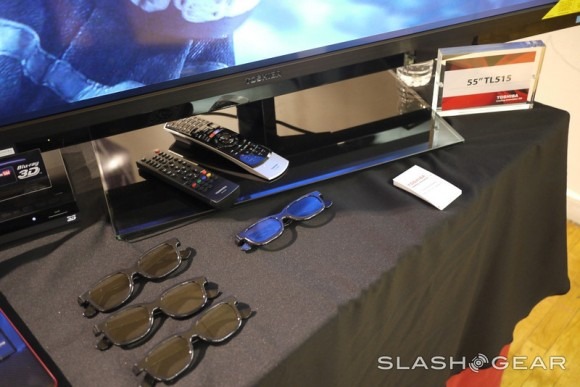 This isn't the first TV set we looked at in the event, the rest available by you clicking on the big [Pepcom Holiday Spectacular 2011 portal] to catch em all. You'll also be able to see a whole couple of handfuls of gadgets and technologically superior products from all corners of the universe there, hands-on videos of them all. Check em out!