Toshiba 16GB microSDHC announced, plus Class 6 SDHC cards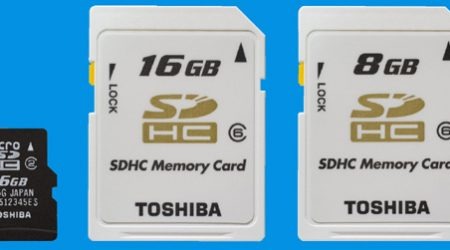 Toshiba have taken the tiny wraps off of its first 16GB microSDHC card.  The SD-C16G will go into mass production in January 2009, and be ideal for storing masses of music and video on cellphones and other mobile devices.  The company also announced a number of new Class 6 SDHC cards for high-speed digital camera use.
The SD-F08G is an 8GB card, while the SD-F16G stores 16GB.  The former is scheduled to go into mass production in December this year, while the 16GB card won't start churning out of factories until April 2009.
No prices or specific availability details have been given for any of the new cards.  However given that SanDisk recently announced their own 16GB microSDHC card for $99.99 we'd expect to see Toshiba's fall in around that mark too.