Titanfall release date on Xbox 360 explained: "a better game a few weeks later"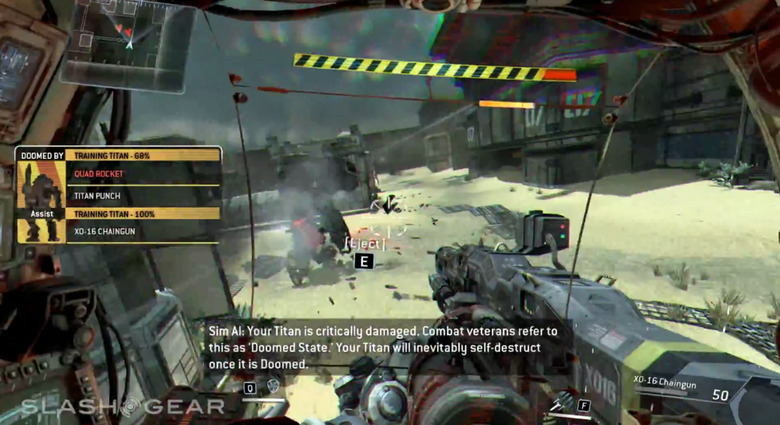 This week as the Titanfall Beta gameplay comes to a close, the one group of users not able to play the game thus far comes to the forefront: Xbox 360 users. These ravenous users of the past generation's Microsoft-made console have been rumbling about the release date for the Xbox 360 version of Titanfall being later than the Xbox One / PC – that date is March 25th, mind you, while the Xbox One and PC will see the game released on the 11th. Turns out Respawn Entertainment (behind Titanfall for PC and Xbox One) are working closely with Bluepoint Games (developers behind Xbox 360 version) to make certain the game is delivered at top-notch quality.
Respawn Entertainment producer Drew McCoy spoke up this week in a NeoGAF forum post about the current development of the Xbox 360 version of Titanfall. This release, he suggests, is "coming along really well" as Blueprint is "full of phenomenally talented devs."
UPDATE: Have a peek at our full Titanfall Review now!
"Oh, and for all the speculation going on about the 360 version. Its coming along really well, Bluepoint is full of phenomenally talented devs. We (being Respawn) have been pushing for them to have all the time they need to make it as good as possible, which means extra time for them to polish it up.

We'd all like it to be day and date, but a better game a few weeks later is better than an unfinished one earlier." – Respawn Entertainment producer Drew McCoy
He also suggested that the Titanfall Beta – as played on Xbox One and PC through Origin – has been a great success thus far. He made clear that the server bug discovered this past Friday was just what the group was looking for – early breaks that can be fixed before the full launch of the game. It's all about finding this stuff out before cash is spent.
"FYI everyone, these types of problems are exactly why we're running a beta – to expose problems at scale greater than what we can get ourselves or even with something like the closed Alpha. This wasn't a capacity issue (at our peak playercount we weren't close to hitting the ceiling), its a bug.

The goal is to find all these things before people have dropped money on buying the game – launch day needs to be as smooth as possible " – Respawn Entertainment producer Drew McCoy
As for those of you worrying that the game might not look as good on Xbox 360 as we've seen it on Xbox One, a few points can be made. First if you'll go ahead and have a peek at some Xbox One gameplay here in our very first hands-on experience.
Next you'll want to have a peek at our Xbox One vs PC side-by-side video for a stab at how different the experience is. This video is part of an expanded Titanfall: Xbox One vs PC article we've published – complete with one whole heck of a lot of opinions from gamers like yourself in comments galore.
Above you're witnessing the game played on an NVIDIA GeForce GTX TITAN-wielding system made for high-end gaming. We also took that same system and swapped that (highest end) graphics card out for a much more modest card in the NVIDIA GeForce GTX 750 Ti – which we also reviewed this week. The results – as streamed over Twitch, mind you, are as follows:
Watch live video from BurnsyDelight on TwitchTV
Besides a matter brought up by NeoGAF user Freki which suggests that there's "heavy screen tearing" with vsync off at 60fps or "a really laggy / unsmooth experience" with triple or double buffering, Drew McCoy had the following to say:
"I suspect you're running an NVIDIA card? If so, yup. Seems to be some weirdness with the way the driver deals with how we queue up frames. Working very closely with them on addressing it." – Respawn Entertainment producer Drew McCoy
Sound like Respawn Entertainment is doing the job on their end of the equation? We'll see once March 11th, then March 25th rolls around. For now you'll have to do with our Titanfall tag portal for more hands-on gameplay action and the trailer below.
Notice anything odd in there? How about the massive dinosaur-like "The Mist" creature near the end. Titanfall Monsters – monsters everywhere!