Titanfall life-size Titans behind the scenes with Daniel's Wood Land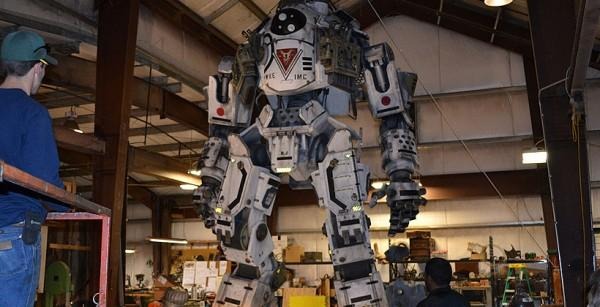 There's a massive Titan making its way across Germany right now in a tour that's promoting Titanfall to the masses. As we're suitably addicted to all things Titanfall at the moment, we decided to investigate this monster closer, finding the creator of not just this one Titan, but the other US and UK-based model as well. Here we chat with CJ Berg Theming Designer for Daniel's Wood Land about the creation of the world's only two life-sized Titans in existence today!
As you'll see in the making-of photos here, the team created the Titan out of some metal – but mostly foam. We'll let Berg tell you most of the creation process of codename "Betty" here while we enjoy the up-close and personal nature of this presentation. Also note – Daniel's Wood Land kindly provided all the photos you see here.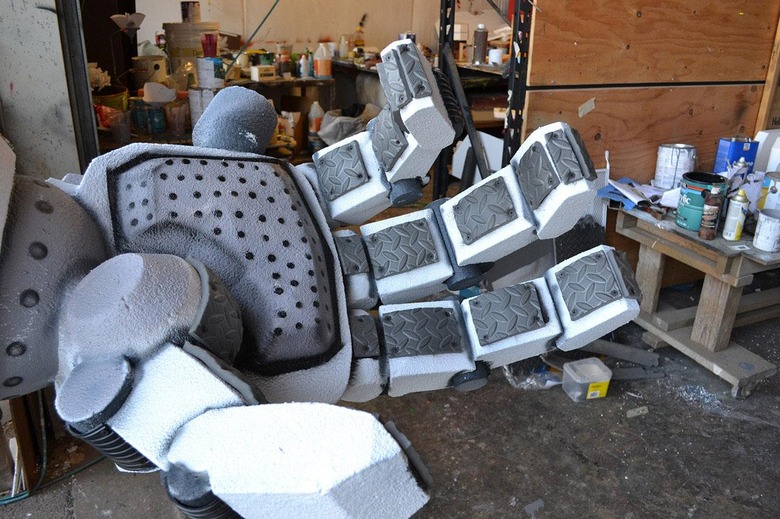 "We received the game artwork for the Titan from Respawn and EA. Using this artwork, it was prepared for milling and fabrication," says Berg, "The parts were cut out of EPS foam using our CNC equipment for assembly."
"We use a large format 4 axis router and a large format cnc hotwire for the cutting. Our steel fabrication department welded up the armature and steel base for the piece. Once we had the pieces and steel ready, we assembled the foam over the steel creating the piece."
NOTE: Have a peek at SlashGear's extended Titanfall Review for more details than you'll ever possibly need to devour.
Berg continued, "These pieces were then hard coated and sent to paint. The whole process from start to finish was 4 weeks, and it wasnt until the very end we were able to get the whole statue assembled together."
Above you'll see some of the final assembly pieces before final painting. Below you'll find a single Titan hand, big enough to pick up its full-grown-human-sized pilot for Titanfall action. "I am excited to have been part of the Titanfall game release and promotion," said Berg, "Working with EA and the incredibly talented people at Respawn was an amazing experience."
Next you'll see a finished assemblage of the abdomen of the Titan, ready for Pilot loading. While a real Titan would have a bunch of gears, switches, and screens inside, this model (unfortunately) is a bit more hollow. We're crossing our fingers for a version 2.0.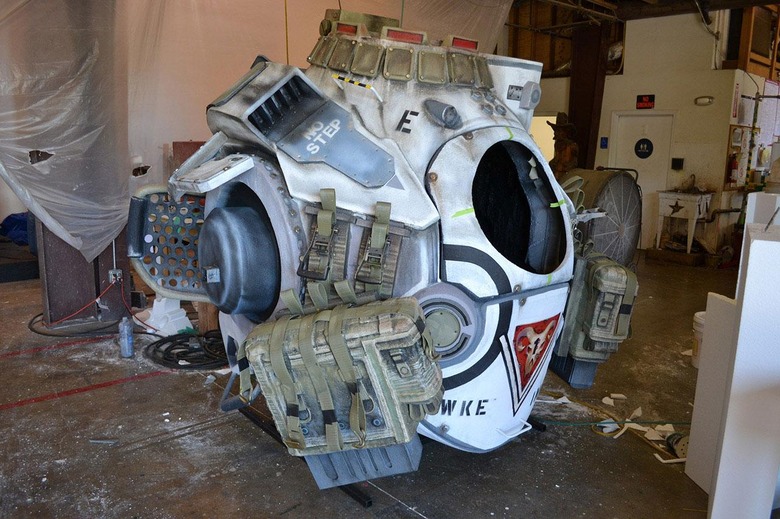 The statue in its final form stands a full two stories tall. This is as close to life-sized and game-accurate as we're going to see, for the time being. Until they make the real thing for our full Titan-piloting pleasure, that is.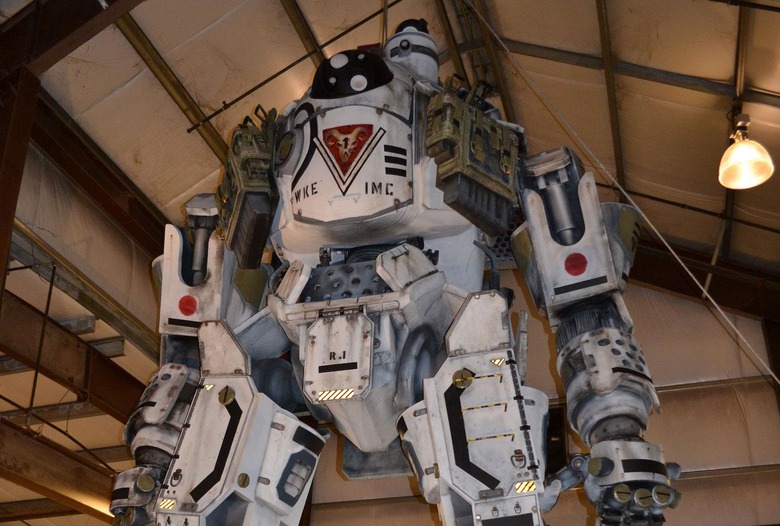 Berg also noted: "We had Joel Emslie and a few artists from Respawn that came up and helped out on the final touches to the piece. They came up for a few days and added a ton of detail and realism to the piece."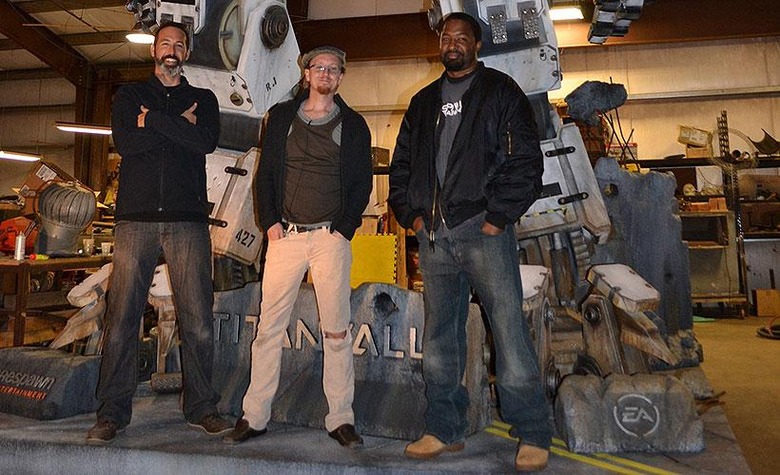 Finally we've got some child-sized comparison. Best not to get too close to that foot, Jr., we've been crushed more than a few times.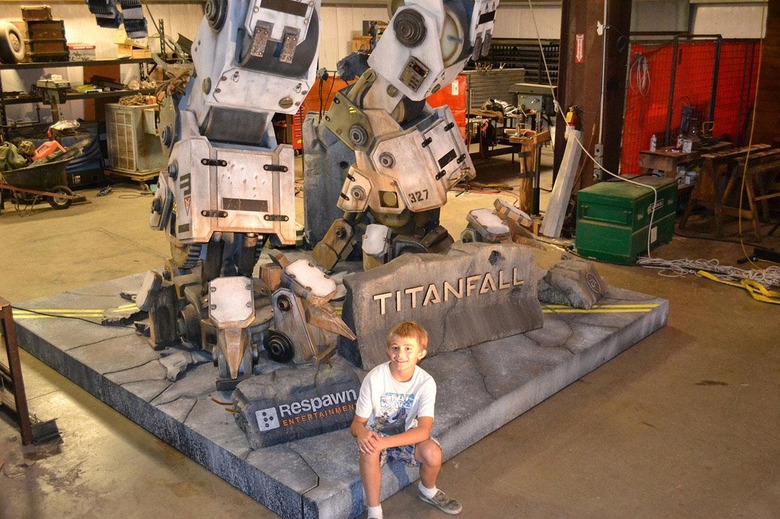 If you're a Titanfall Pilot already, you'll know: tis' better to rodeo the beast than to sit idly by!
If you want to find this monster out in the wild, you'll need to head to Germany (for now). The following schedule should give you an idea of where you'll be going as each venue hosts this statue.
• Berlin: Donnerstag, 13. März 2014, 9 – 18 Uhr, Hauptbahnhof, Ebene 0, Mittelsteg (zentraler Bereich)

• Hamburg: Mittwoch, 19. März 2014, 9 – 18 Uhr, Europa Passage, Fläche 2 (nahe Starbucks), Ballindamm 40

• Köln: Montag, 24. März 2014, 9 – 18 Uhr, Gürzenich (Foyer), Martinstraße 29-37

• Stuttgart: Freitag, 28. März 2014, 9 – 18 Uhr, Hauptbahnhof, Große Schalterhalle, Höhe Gleis 14-15
As you may know having visited our previous Titanfall Launch collection article, there other one of two Titans out in the wild is half as tall as this one. Measuring in at a bit less than a single story tall, "Jack" is made for portraits more than he is to look imposing.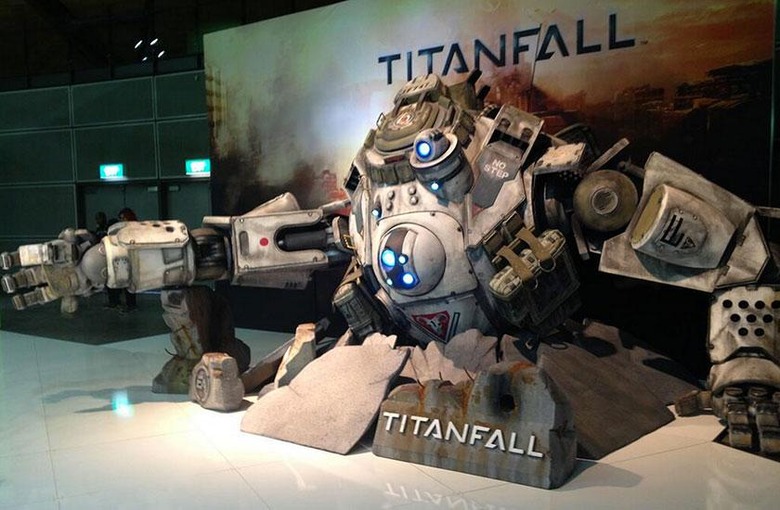 This statute goes by code-name "Jack" and this image was photographed by the team at Respawn Entertainment for the official @TitanfallGame Twitter account. NOTE: we're now expecting additional photos of the making of Jack as well. Stay tuned!
UPDATE: Part 2 is up – have a peek at "Reacher", aka Jack!