TI OMAP4470 1.8GHz dual-core coming 1H 2012 to take on Kal-El and Intel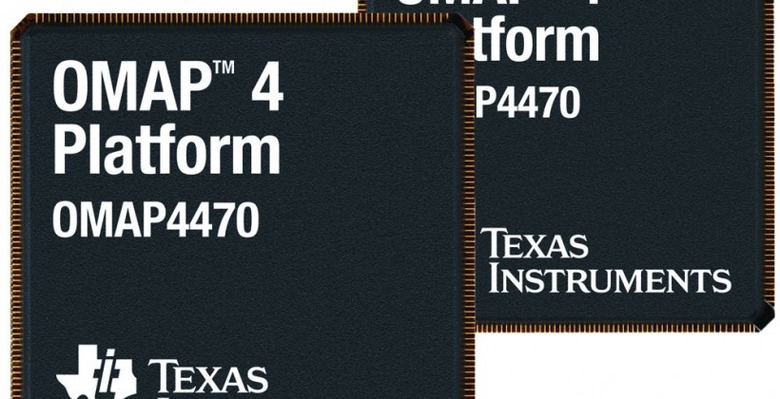 Texas Instruments has outed its latest OMAP4 platform processor, the OMAP4470, at Computex this week, a dual-core ARM A9 1.8GHz chip intended for smartphones, tablets and ultra-thin notebooks. Designed not only with Android and other Linux OS in mind, but with Windows on ARM – one of the incoming Windows 8 builds – the OMAP4470 takes on not only traditional TI rivals like NVIDIA's Tegra and Qualcomm's Snapdragon, but Intel's latest Atom and Sandy/Ivy Bridge chips too. SlashGear caught up with Mark Granger, OMAP platform marketing head, to find out how TI has delivered an 80-percent boost in browsing performance and 2.5x the graphics potency.
The OMAP4470 follows in the footsteps of the existing OMAP4430, the 1GHz dual-core found in the BlackBerry PlayBook, and the dual-core 1.5GHz OMAP4460 currently with developers and expected to show up in commercial products in the second half of 2011. It brings with it the POWERVR SGX544 GFX graphics core running at 384MHz with support for DirectX 9, OpenGL ES 2.0, OpenVG 1.1 and OpenCL 1.1, good for driving a display of up to QXGA 2048 x 1536 resolution or three simultaneous HD screens.
With chips like NVIDIA's quad-core Kal-El in the pipeline, we asked Granger why TI has stuck with its dual-core strategy. Turns out, the OMAP4470 is a quad-core in a way: the two A9 cores are paired with two ARM Cortex M3 cores, used with TI's Hardware Composition engine and dual-channel LPDDR2 memory with 7.5Gbps of bandwidth. That unique engine can offset processing – for things like multi-layer UIs – between the M3 cores and the POWERVR GPU and away from the A9 cores: Granger says that means the OMAP4470 isn't just fast but power frugal, too, as well as offering performance where users particularly want it, in the browser and for graphically-complex games.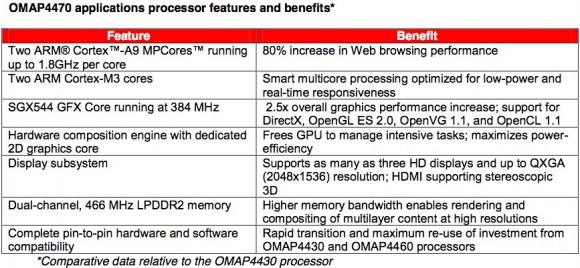 That power management, TI claims, means a smartphone or tablet with average batteries using the OMAP4470 is good for up to 10hrs of 1080p HD playback on a single charge, or up to 4hrs of 1080p HD recording. "OMAP4470 delivers the compute horsepower and system bandwidth to drive the best user experience" Granger says, for the "quintessential user experience" of a fluid UI and "class leading" performance.
Pin-for-pin, the new OMAP 4 chip is compatible with its predecessors, which means that manufacturers using the older versions face little work to swap over to the OMAP4470. However, it's not just QNX and Android hardware which TI has in mind: as a member of the Windows on ARM Initiative, the chipset has been purposefully designed with Microsoft's upcoming version of Windows 8 for ARM processors in mind. DirectX is one example of that, but generally TI is keen to take on Intel's x86 chips when it comes to performance and battery life.
"We believe OMAP4470 is a great fit for an ultrathin laptop" Granger explained, highlighting that ARM processors generally add up to stronger battery life than x86 chips and that the latest models are now more than capable of competing on performance, too. Unfortunately he had no comment as to the rumors that TI would be the lead chip partner on Android Ice Cream Sandwich.
The TI OMAP4470 will begin sampling in the second half 0f 2011, with devices using the chipset expected to go on sale in the first half of 2012. As for what comes after that, well, TI's OMAP 5 platform – led by the OMAP5430 and OMAP5432 – with two 28nm ARM Cortex-A15 MPCores running at up to 2GHz is expected to hit retail in the second half of 2012.
Press Release:
TI's OMAP4470 apps processor: It's all about the user experience

Latest OMAPTM 4 platform processor sets new standard for mobile computing, bringing up to QXGA display resolution, HD UIs and 2x Web browsing performance

COMPUTEX, June 2, 2011—Building on the OMAPTM 4 platform family's technological achievements , Texas Instruments Incorporated (TI) (NYSE: TXN) introduced today the power-efficient OMAP4470 applications processor, designed to deliver the perfect balance between processing power, graphics, display subsystem functionality and multilayered user interface (UI) composition. The multicore OMAP4470 processor surpasses current market solutions with clock speeds up to 1.8 GHz, an 80 percent increase in Web browsing performance, increased memory bandwidth, a 2.5x boost in graphics functionality—via the POWERVR SGX544 core from Imagination Technologies—and a unique hardware composition engine. Mobile computing and gaming applications running on operating systems such as Android, Linux and the next version of Microsoft Windows will benefit from the OMAP4470 processor's enhanced capabilities. Customers designing ultrathin laptops, tablets or smartphones around previously released OMAP 4 processors gain the added benefit of pin-to-pin hardware and software compatibility for maximum re-use and faster time-to-market.

―Superior mobile computing relies on a user experience that dwarfs all others. Fast and crisp Web browsing, HD and liquid UIs, support for the latest applications—these are the elements consumers judge and buy their devices on. The OMAP4470 processor delivers the maximum experience possible with an unmatched, power-efficient architecture,‖ said Remi El-Ouazzane, vice president, OMAP platform business unit, TI.

Making HD UIs a reality

Courtesy of its advanced graphics architecture, OMAP4470 enables customers to leverage tomorrow's leading-edge display technology by supporting resolution up to QXGA (2048x1536). The new applications processor drives still more unparalleled HD UIs with simultaneous support for up to three HD screens and up to 2x more layered imaging and video composition than competitive solutions—a capability required by the sophisticated UIs of next generation operating systems. This feature is enabled by the combination of a hardware composition engine with a dedicated 2D graphics core, a highly sophisticated display subsystem, and dual-channel LPDDR2 memory enabling up to 7.5 Gbps of throughput to composite the graphics and/or video data output. This frees the GPU to perform graphics-intensive tasks such as gaming or widget creation while the compositing process is assigned to more power-efficient hardware subsystems.

Powerful enough for desktop applications yet highly power-efficient for mobile applications, Imagination Technologies' POWERVR SGX544 GPU complements the OMAP 4 platform's promise of high performance, low power. The OMAP4470 processor is the first OMAP offering to leverage the POWERVR SGX544. Combining the SGX544's features with the sophisticated OMAP architecture enables TI customers to deliver a new set of applications to end-users, including DirectX-driven games and videos.

―Graphics processing is now at the very heart of the mobile computing experience, providing the gateway to an enriched experience of user interface, gaming, location services, web and media,‖ said Hossein Yassaie, CEO, Imagination Technologies.

―Combining the OMAP 4 platform's low-power, high- performance architecture with the extensive acceleration capabilities and API support of Imagination's POWERVR SGX544 will enable experiences that will really make people sit up and take notice.

Availability

The 45nm OMAP4470 processor is expected to sample in the second half of 2011, with devices expected to hit the market in first half 2012. These products are intended for high-volume mobile OEMs and ODMs, and are not available through distributors.