Three Web Cube Review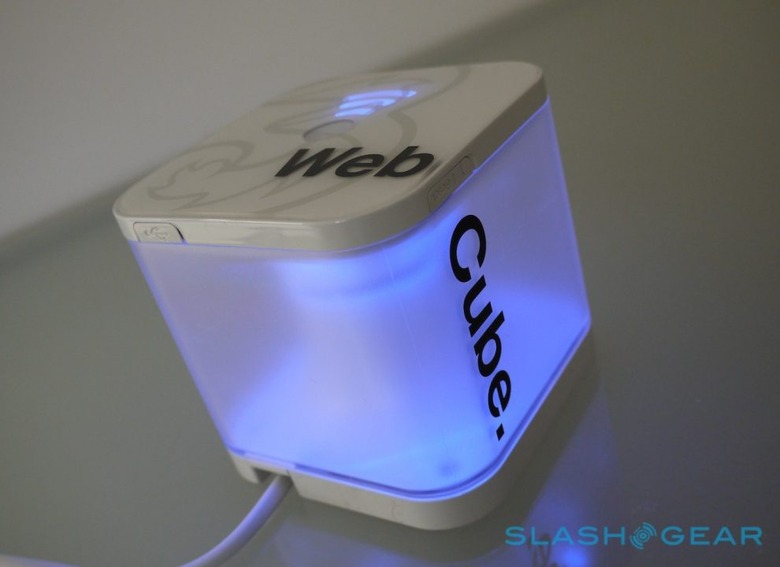 Take the portability out of mobile broadband, and you're left with a plain old broadband connection, but what if your home or office doesn't get a high-speed hookup or you're only going to be around for a short chunk of the typical 12-24 month agreement? Carrier Three believes it has the answer with the Web Cube, in effect a mobile broadband router that can't go any further than an AC socket. In return, you get convenience, some degree of mobility and – every geek's favorite – blue LED lighting. But is a non-mobile mobile modem niche or nonsense? Check out the full SlashGear review after the cut.
Hardware
While the key components of the Web Cube may be the same as your average, pocket-sized mobile hotspot, the device as a whole is much bigger. Almost a 10cm cube (it's 9.5cm high) it's a distinctive addition to your desktop, with white base and top plates sandwiching a frosted midsection that reveals a fluted inner pillar. An array of blue LEDs cause the whole thing to glow when a device is connected via WiFi.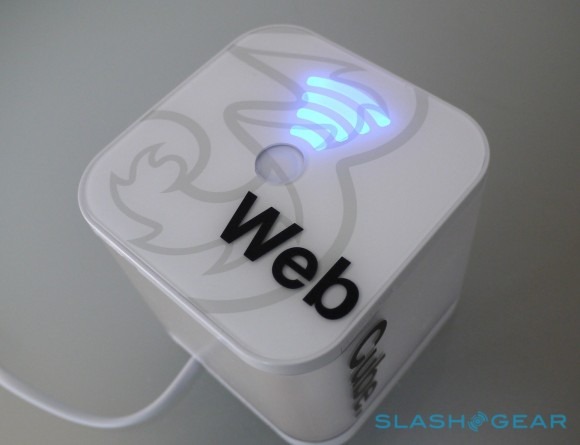 Physical controls are limited to a single button on the top, which doubles as a WPS pairing key and, with a longer press, a power button to shut the Web Cube down. Three of the top edges have tiny hatches, one sliding out for the SIM card, another hiding a reset button and external antenna port, and the last a microUSB port used for firmware updates. Unfortunately you can't plug an external drive into the USB connection and share its data across the network.
Inside the Huawei-made device there's a HSPA+ radio supporting up to 21.6 Mbit/s downloads and up to 5.76 Mbit/s uploads, network depending, along with a WiFi b/g/n router supporting up to five WiFi connections at any one time. 3G signal strength is shown via blue LEDs on the top panel.
Setup
Three is aiming for plug and play simplicity with the Web Cube, and the most confusing part is probably going to be loading the SIM. The quick-start guide shows where to slot it in, though hopefully in-store sales staff will do that for most users; then it's just a case of plugging in the mains power lead and watching the Web Cube load up automatically.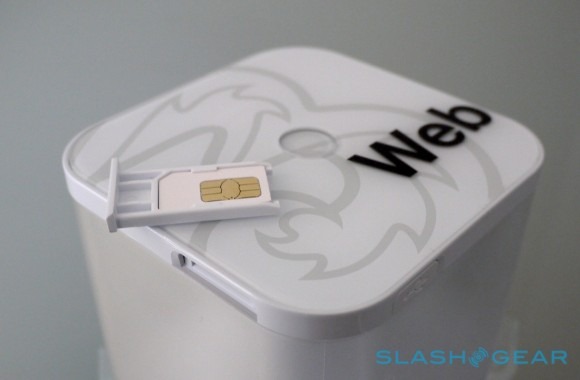 Both the SSID and WPA2 encryption key are preconfigured, each printed on the base of the Web Cube as well as on the back of the quick-start guide. We were connected and surfing in sixty seconds from plugging the modem in, in fact.
As with most routers, there's a browser-based control panel for checking status and accessing more complex settings. The home view shows data connection, upload/download speeds and a data counter, along with icons for signal status and how many WiFi clients are connected; you can also turn off the main body light. There's also text message support, including incoming and outgoing messages; it's worth noting that any WiFi user can access this and send SMS billed to your account. While you can't turn off text messaging or lock it down with a passport, you can put in an incorrect service center number and block the functionality that way.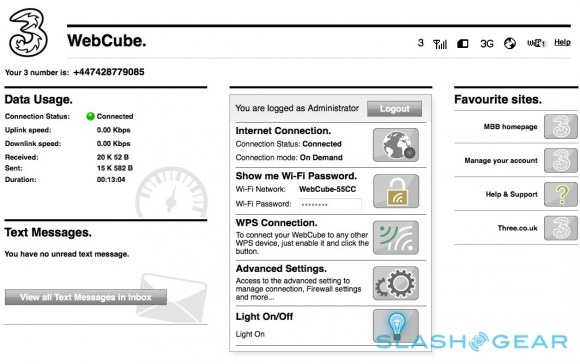 Log into the admin pages, and the Web Cube's true router abilities become visible. It may look toylike but there's most of the advanced settings and options that you'd expect from any wireless hardware: a DHCP server, static routing, MAC filtering and optional WiFi bridging, a firewall (sensibly on by default) and IP filtering, virtual server support and a DMZ. If you want to lock down the Web Cube to only support visiting certain sites, you can do it.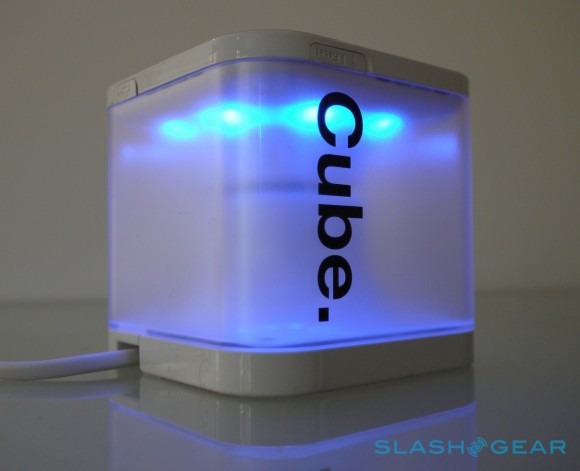 Performance
Mobile broadband download speeds are obviously dependent on carrier coverage, and the Web Cube's 110cm cable doesn't give you a huge amount of flexibility to move the modem around. Still, the integrated signal strength meter does make positioning easier, though we'd recommend doing some online speed tests just to see where the best results can be had.
Shifting the Web Cube one meter closer to the window saw download rates double (to 4.06 Mbps) and upload rates more than quintuple (to 1.72 Mbps), for instance, so there are significant benefits to be had in experimenting. At least, unlike most wired home broadband connections, you can take your pick of locations, as long as they're near enough to a power socket. Moving to the other side of the building saw download rates jump to 5.89 Mbps and upload rates to 2.74 Mbps.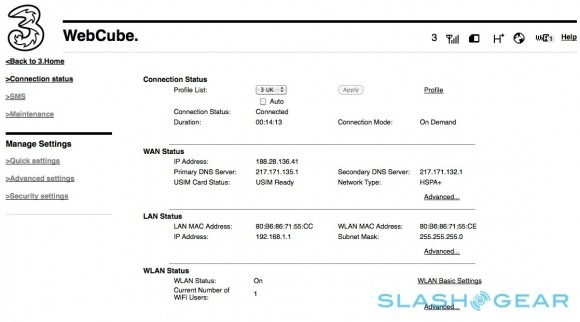 As for WiFi strength, we had no problems keeping a connection even with three walls (one external brick) and solid wooden doors between us and the Web Cube. In fact, our test computer was still showing full signal strength at the time. This could be the Web Cube's biggest advantage over traditional mobile hotspots, which generally suffer from relatively short range WiFi radios.
Pricing
Three offers two options for Web Cube data packages. If you're willing to commit, you can get 15GB of data per month on a two year £15.99 agreement, and pay nothing upfront for the modem itself. Those feeling more flighty can opt for a £15 month-to-month package, getting them 10GB of data instead; they'll also have to pay £59.99 for the Web Cube.
There's no unlimited data option, however, and Three tells us the target audience wouldn't really want it, though we're not so sure that's actually the case.
Wrap-Up
It's easy to be dismissive of the Web Cube, at least at first glance. Three's HSPA+ can deliver reasonably speedy burst rates but still lags behind top-tier wired broadband connections, while you also miss out on the battery-powered portability of a traditional mobile hotspot. Unlike the carrier's own WiFi Hub – which shares a USB modem's connection over WiFi – you don't get wired ethernet either, and the Web Cube is even larger.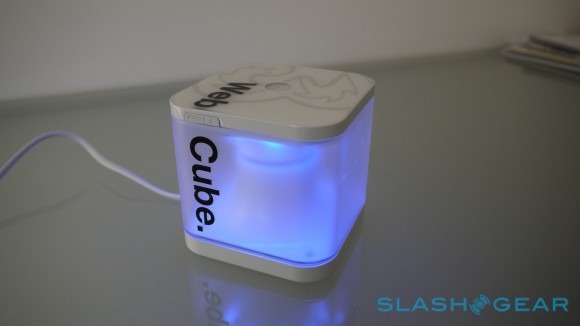 Where the Web Cube begins to show merit is in its ease of setup and WiFi performance. Ignore the advanced settings – as most users will – and you can be up and running moments after plugging in. It's portable enough that you can take it on holiday with you, and the data plans, while missing an unlimited option, are probably enough for casual users. The dramatically stronger WiFi range than a battery-powered hotspot singles the Web Cube out for semi-fixed usage too.
Definitely a niche gadget, then, but if you fit the target demographic then there's plenty of appeal. We can see the Web Cube being ideal for broadband-shy grandparents or catering to a temporary office; it'd make a good backup option if your home broadband goes down. More advanced users will undoubtedly be able to find cheaper ways to share out a 3G connection, but if simplicity is your guiding star then the Web Cube will take some beating.