Three things to know about the Acer Aspire R 13 laptop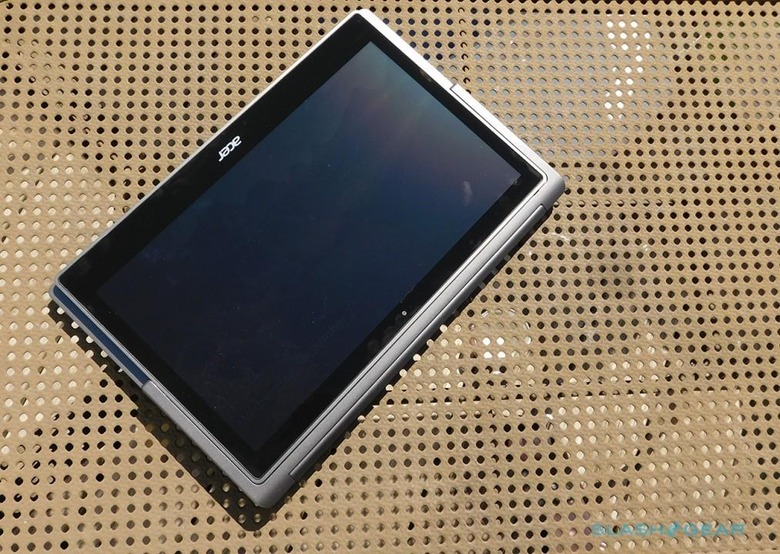 As always, life is busy and maybe you haven't gotten around to reading our full Acer Aspire R 13 laptop review as a result. Make sure you check it out and/or pass it along to someone you know who's in the market for a new laptop. Until you get time to read it, though, we're back with three key things to know about the laptop — the good, the decent, and the meh.
1. It has a weird - and fantastic - hinge
The Acer Aspire R 13 is a convertible laptop, but not in the typical way. Rather than featuring a detachable display, or one that folds all the way back on traditional hinges, it features two long arms that are attached to the centermost portion of the display's edges via 360-degree hinges. This allows the display to rotate completely around, but also remain fixed to the overall machine.
2. It's a solid laptop
If you don't care about the hinges one way or the other, there's another thing to like about the laptop: it's a solid machine, one that'll meet the needs of the average business or casual user. It runs Windows 10 like a champ, and has a beautiful, classy design to match, making it suitable for school, work, and play.
3. The keyboard takes some getting used to
The keyboard is beautiful and comfortable to type on, but more sensitive than most laptop keyboards, and with a layout that will throw many users for a spin. You'll need to get used to some of the unusual key positions — the brightness control is on the too-short arrow keys, for example, rather than in the function keys row. If you're an adaptable typist, this won't be a problem.
Check it: SlashGear's Laptop Reviews portal!