ThinkPad X60t Tablet gets Core 2 Duo upgrade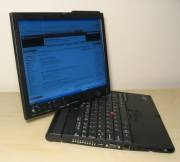 Right now I'm weeping like a fresh cesarean scar in a hot-tub at the news that Lenovo have finally seen fit to upgrade their deliriously delicious X60t Convertible Tablet PC to a rooty-tooty Core 2 Duo CPU.  Consistently scoring indecently well in reviews – even, shock-horror, in those carried out by non-Tablet-lovers! – one of the only black marks against the pen-toting ThinkPad was the relatively ancient processor. 
In fact so arcane was the CPU, Lenovo was in fact running short on the original chip and Intel were no longer producing them, so in the interim period they had to offer a lesser model until they could prep the Core 2 Duo version.
I fear this may be my next Tablet PC, especially since you can currently get a $300 discount if you buy before 16th April.
Lenovo [via jkontherun]