ThermalTake Cases - can make even a 386 look badass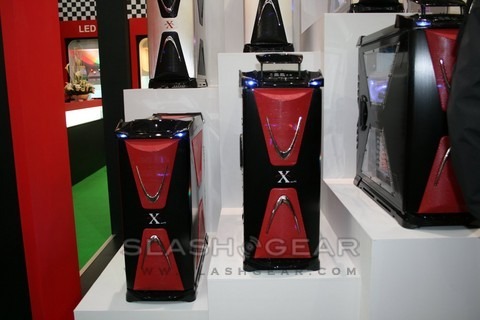 They have a new XaserVI Mx case that is a mid-tower version of the amazing XaserVI. They've kept the whole thing covered in mesh metal grills, filled with fans, and organized so that the GPU(s), CPU(s), and HDD(s) all have their own path of air flow for optimal cooling. There is tool-free installation of everything except the motherboard and power supply, and the mid-tower size will look a little better on top of your desk.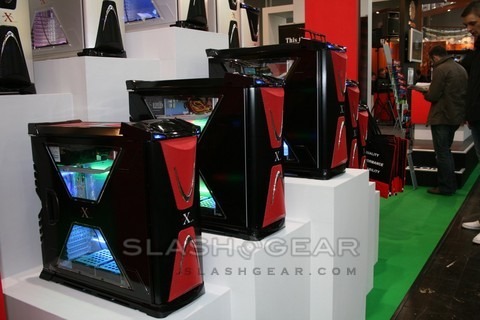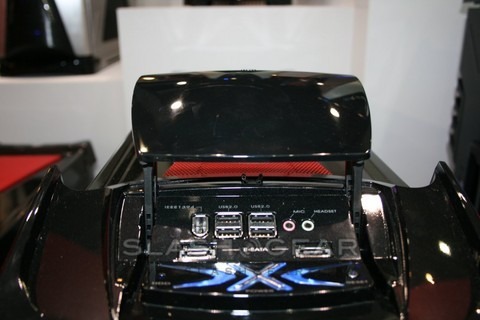 Thermaltake is also offering, for the first time, the NVIDIA ESA certified trifecta, power, liquid cooling, and case. The power is their Toughpower PSU 850W, the liquid cooling is their Bigwater 780e, and my personal favorite is the case which is the Armor+ case which they are showing off at the show. The new version of the Armor+ case is below and includes 10 PCI slots now as well as upgrades in smart cable management, independent thermal management, and a sliding motherboard tray.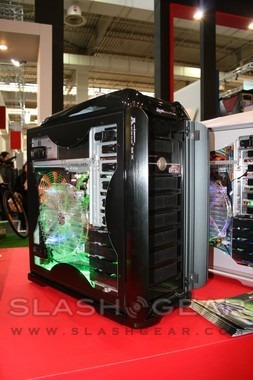 There were also several other cases from Thermaltake at the show. As per the usual they were slathered in mesh grills, ports, windows on the side, and big enough, and quantity enough fans to nearly make the case levitate. I also like the way they integrate the ports into not only a convenient location, but an aesthetically pleasing one as well.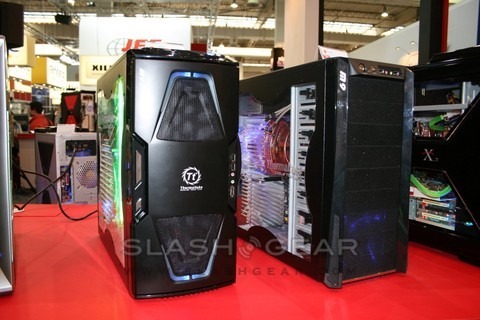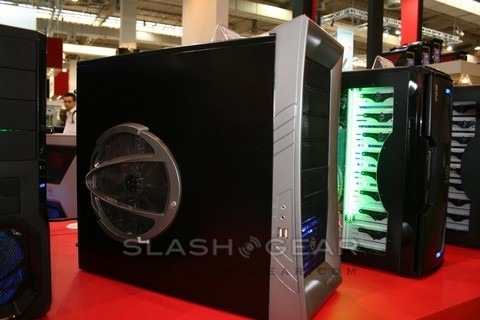 Lastly, for a new up and coming market, they have a few different Home Theater PC (HTPC) cases. Ranging in size from something that just looks like another receiver or component to your stereo all the way up to a couple models that look like mid-tower cases turned on their sides. On of the latter even has an LCD touch-screen built into the front of it, meaning you wouldn't have to turn on your TV if you were just playing music.