The Star Wars R2D2 Speaker Set - major geek appeal but weak specs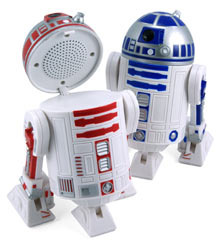 If you've been on the prowl for some speakers with a bit of geek appeal, then R2D2 speakers are right up your alley. In recent years he's found all kinds of uses, mailboxes, trashcans, and now these cute little speakers.
They aren't exactly high powered or have stellar quality sound, but they are cute. One side shows R2D2 and the other is actually R2D1.
They are both 6in tall and just need plugged into your regular headphone jack. Like I said before they aren't going to have stellar sound quality or get overly loud, so they are more novelty speakers than anything. They are being sold for $39.99.
[via uberreview]