The Plug-In Knight Light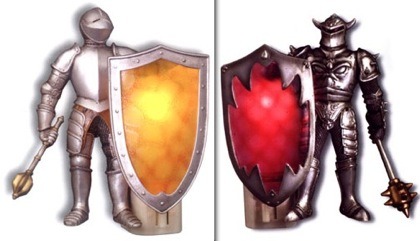 Do you still dream of being that knight in shining armor (aka play Dungeons and Dragons)? Perhaps you even have a stash of cheaply made swords somewhere, well then this night light might be for you.
Although the good knight looks a bit cheesy, the dark knight looks pretty cool. It might be a bit wise to hide it away if a chick is going to be around and you would actually like to get laid. Unless she is cool with all the nerdy stuff, then you should definitely display it. Yes, some chicks do appreciate nerdy things; only the super cool ones though.
The two featured here are $11.99; however, there are different versions of the knight light that are priced all the way up to $32.99.
The Medieval Knight Light [via nerd approved]