The new Dell XPS laptops are slim, pixel-dense beasts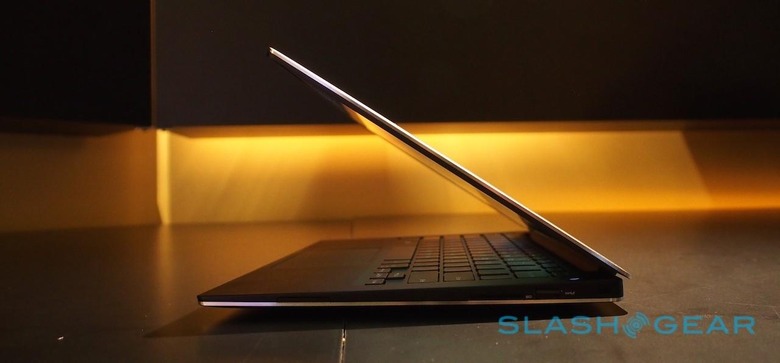 At CES, Dell is hitting hard with a full lineup of exciting new products, and their updated XPS 13 and 15-inch laptops might be the coolest we've seen so far. The super-slim laptops also pack a punch with an astounding screen and amazingly slight bezel. Dell also says the XPS 13 is the "best performing notebook of its size", and sports a 15-hour run time on a single charge. They've also got 5th generation Intel Core processors, and the 13-inch model weighs a mere 2.6 pounds.
The optional UltraSharp Quad HD+ display, though — wow. Aside from the pixel-density (5.7 million of them in the XPS 13, and over 8 million in the 15), the XPS also has a ridiculously tiny bezel. Around the edge of the screen, you'll only see 5.2mm of anything besides pixels looking at you.
Like most newer high-end Windows laptops, the Dell XPS 13 and 15 are touchscreen, too. Intel Broadwell i3, i5, and i7 are on offer, with RAM options from 4GB to 8GB. Memory is all SSD, and can be 128, 256, or 512GB.
Dell also kept style-conscious folk in mid when creating the XPS lineup, rolling in a carbon-fiber aesthetic around the keyboard and touchpad. Those who prefer a more streamlined look will like the XPS, too. A metallic shell abruptly ends into the plastic sides and body, giving a very squared-off look.
A full compliment of ports can be found around the edge, too.
The duo of XPS currently have no release date or pricing, but Dell is coming on strong with these two. We'd expect them to be competitively priced, and doubt they'll keep us waiting too long before we can snap one up in stores.