The Light At The End Of The World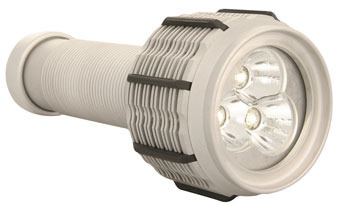 If you're stocking up for the end of the world, I've got one last item for your fallout shelter. The MF 1000 from Fox Fury is the brightest LED flashlight on the market. With a brightness of 1000 lumens it can be seen up to two football fields away.
The case is shock, fire, and water resistant, so it'll make it through just about anything. It is powered by 15 lithium CR123 cells. However, if you are using it at full-power, you'll only get about an hour out of it. If you're just using the LED's you can squeeze about 3 hours out of it.
It's a bit salty at $1000, but that's ok. In a post-apocalyptic world our paper money will be worthless anyway.
Fox Fury's 1000-lumen LED "MF" 1000 Flashlight: No Relation to BFG, Brightest Ever
[via gizmodo]