The Hollywood studios put dogs to work, sniff out pirated DVD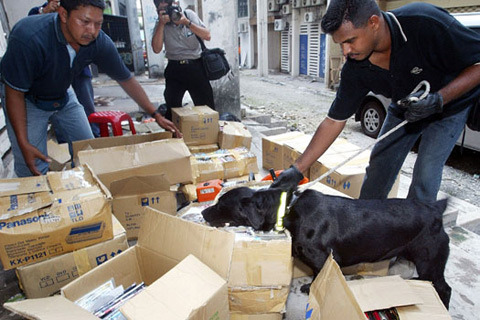 Paddy and Manny are two male Labradors and a well-trained DVD sniffing squad from the MPAA, whose members include Hollywood studios like Sony Pictures, Paramount Pictures, Warner Bros., 20th Century Fox and Universal.. Etc. At present, they are being loaned to Malaysia's Ministry of Domestic Trade and Consumer Affairs to sniff out a certain chemical used in bootleg DVDs.
The DVD-snifflers cost the studios $24,000, including the training fees but the man's best friends have helped the authorities discover 1.6 million pirated DVDs and other optical discs and equipment worth $6 million over six months and according to the AP, "U.S. studios that are members of the association lost $6.1 billion to worldwide piracy in 2005, including $1.2 billion worth origination in Asia and the Pacific region"
Good job!, paddy and Manny, go get'em! and I hope you two are well-groomed and flying first-class in the expenses of the Hollywood studios.
[yahoo via ap, picture credit of ap]