The CWave Fever continue, Gefen World's First HDMI over coax with Pulse Link UWB Technology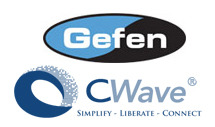 Pulse Link logo may become the standard print on next generation of HD devices along with CWave fever. It's Gefen this time that announced World's first HDMI over coax for High Definition video connectivity with Pulse-LINK's CWave(R) UWB technology. I'm not sure about you, but I am psyched about the ability to extend the reach of HDMI from room to room over their existing in-home coax cabling, that including splitters according to Pulse~LINK.
The Gefen's extender also provides an infrared back channel to enable consumer to use the same remote control for existing components. Its rate of Gigabit data is capable to delivery simultaneous visually lossless high quality video along with multi-channel digital audio. It will be presented in CES 2008 and has a schedule to release in April 2008.
Gefen and Pulse~LINK Introduce the World's First Consumer HDMI Over Coax Product for High Definition Video Connectivity Throughout the Home [via businesswire]