Tesla Coast to Coast rally finishes but world record status still unknown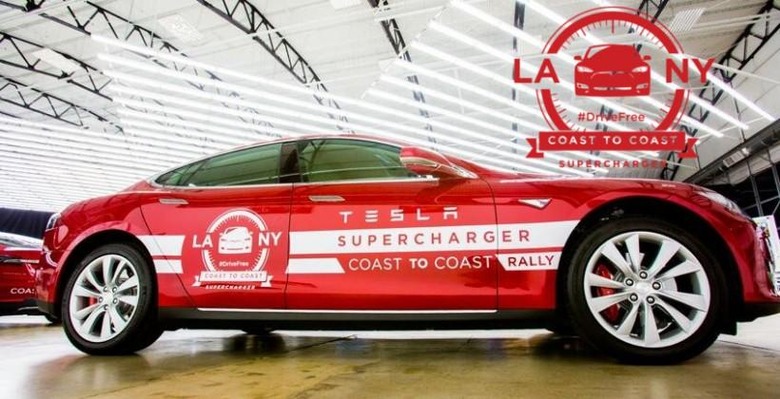 Tesla has just successfully finished its advertising campaign disguised as a driving rally from one end of the US to the other. However, the fate of its attempt at setting a new Guinness World Record is still hanging in the air.
Last week, Tesla put its marketing machine on overdrive announcing its Coast to Coast Supercharger rally. The goal was to drive two of its electric Model S sedans from Los Angeles to New York in just three days. There was also a mention of trying to set a world record, but it wouldn't take a genius to see it as an orchestrated marketing stunt with the world record title as cherry on top.
The main focus of the rally isn't actually the cars but, as the name suggests, Tesla's Supercharger network. The car maker also announced 80 percent of completion of its network of 70 electric car chargers spread throughout the US which is the route that the cars will take. Tesla plans to complete as much as 98% of the network by end of 2015.
Initial calculations by Tesla led them to aim for a three-day completion time for the rally. Unfortunately, due to very poor driving conditions, which the team already took into account, they still ended up exceeding their limit by just a bit. The rally clocked at a total of 76 hours or 3 days and 4 hours.
That said, the world record that Tesla was aiming for isn't exactly for the shortest coast to coast drive but for the lowest charge time for an electric vehicle traversing the country. And while there is still no news whether this rather unusual title has been granted, Tesla's ulterior marketing motive might have already been well met.
VIA: The Verge