Tesla becomes "only American car company to have fully repaid the government"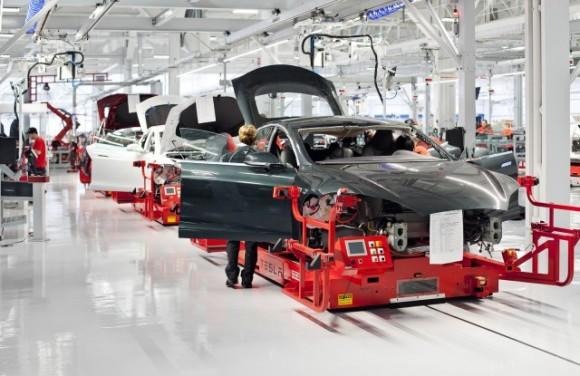 In an announcement let loose today by Tesla Motors, they've made it clear that they're claiming to be "the only American car company to have fully repaid the government." As over the past several years it's been a big subject of controversy that the government gave "bailout" funds to companies in many different industries, it's important to note that this particular loan was not part of the so-called "bailout" rounds given to GM and Chrysler.
Instead, Tesla was part of the Advanced Technology Vehicle Manufacturing program, a program signed into law by Bush in 2008. The loan funds were awarded under the Obama administration in 2010 as well as "in the years that followed". Tesla has made clear that both GM and Chrysler were given bailouts because they were bankrupt, while the ATVM program was only available to Tesla Motors because they were in good financial health.
According to Elon Musk:
"I would like to thank the Department of Energy and the members of Congress and their staffs that worked hard to create the ATVM program, and particularly the American taxpayer from whom these funds originate. I hope we did you proud." – Musk for Tesla
This move to repay the loans given to Tesla by the Department of Energy has made Tesla once again a totally privately funded organization. This is the first time since 2003 that the company has been funded entirely with private funds, mind you, and and this final payment was made using "a portion" of the approximately $1 billion raised last week by the company.
UPDATE: Clarified by a helpful reader, it's not since 2003 that the company was entirely privately funded – instead it was privately funded from 2003 until 2010, then between 2010 and 2013 (now), it was funded in part by this government loan – now again it's entirely privately funded.
This $1 billion came from a concurrent set of offerings of common stock and convertible senior notes – and $100 million of common equity was purchased by Elon Musk himself. Today's payment – the final one, at that – equaled nearly a half-billion at $451.8M in all. This repays Tesla's loan cash in full, with interest.
For those of you wondering – both GM and Chrysler have paid back their loans, too. But that's not all the cash they got from the government, depending on how you look at it. Back about a year ago, President Obama mentioned that both company's loans had been repaid in full.
According to Politifact, while the companies that were formed when the bailouts were made did, indeed pay that money back, the "old" Chrysler and "old" GM have not necessarily made that move – it may be that, all things considered, there will be no complete payment by the auto industry back to the government. But again, it's all about your point of view.