Top 10-Inch Car Subwoofers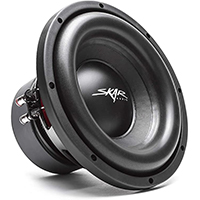 Skar Audio SDR-10 D4
Pros
Multiple sizes available
2- or 4-ohm options
Air-flow cooling
Two-year warranty
Cons
Installation wiring not included
No UV protection
This 10-inch subwoofer has a peak power rating of 1,200 watts, which is higher than many competing products offer. It's available with 2- or 4-ohm impedance, so you can prioritize volume or sound clarity depending on your preferences.
Skar's pricing is comparable to similar models from competitors, but the company offers a longer warranty (two years). Reviewers praise its clear sound quality and great value.
As of publishing, it costs $89.99.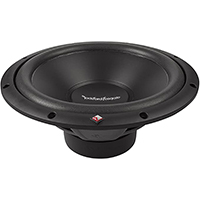 Rockford Fosgate R2D2-10
Pros
2- and 4-ohm options
For both sealed and vented enclosures
Heat-dissipating aluminum coil
Spider venting for cooling
Cons
Only 500-watt peak power
Only one year of warranty
Rockford Fosgate is an industry-leading manufacturer that makes competitively priced 2-ohm and 4-ohm 10-inch subwoofers with a sensitivity of 89 decibels. These products combine a heat-dissipating aluminum coil and spider venting to keep the sub cool and extend its lifespan.
This model can be used with both sealed and vented enclosures. While it has a lower power rating (500 watts max and 250 watts RMS) than other models, its reviews confirm that it's hard-hitting with a good sound quality.
As of publishing, it costs $53.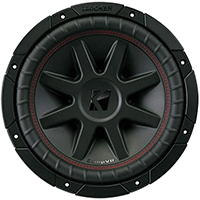 KICKER 43CVR102 CompVR
Pros
For both vented or sealed enclosures
Built from durable polypropylene
High-temp coil with cooling perimeter
Cons
Only one year of warranty
Installation wiring not included
KICKER makes a wide range of subwoofers, including this well-reviewed 10-inch sub for both vented and sealed enclosures. It has a mounting depth of 5.5 inches, 2-ohm impedance and 83.6-decibel sensitivity.
The sub is constructed from durable polypropylene with cooling features to improve performance and lifespan. It has a max power rating of 700 watts and an RMS rating of 350 watts. Reviewers consistently describe it as affordable and high in performance.
As of publishing, it costs $89.96.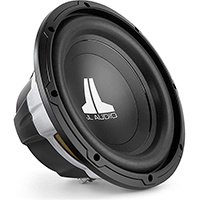 JL Audio 10W0V3-4
Pros
Built from durable polypropylene
Elevated frame cooling
Two-year warranty
Cons
600-watt peak power
Installation wiring not included
This subwoofer from JL Audio can handle up to 600 watts with an RMS rating of 300 watts. The cone is constructed from a durable blend of minerals and polypropylene.
The sub's elevated frame helps keep the sub cool by funneling air directly to the coil. Reviewers are typically pleased with the product, mentioning a crisp sound and high volume.
As of publishing, it costs $159.99.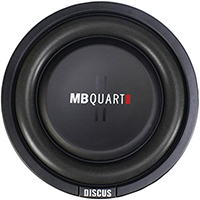 MB Quart DS1-254
Pros
UV-resistant
Less than 3-inch mounting depth
Front and rear venting
Cons
Only a year of warranty
400-watt peak power
The MB Quart is a shallow mounted subwoofer with a very slim 3-inch mounting depth. Its front and rear venting keep the componentry cool and extend the sub's life, and the rubber surrounds are UV-treated to resist fading.
This sub has a max power rating of 400 watts and an impedance of 4 ohms. Reviewers were often surprised by the quality and volume of sound from this small, affordable model.
As of publishing, it costs $62.99.
How We Found the Best 10-Inch Car Subwoofers
To find the best 10-inch car subwoofers, we compared dozens of top product listings on Amazon, looking at reviews, price, brand and features. Only products with Prime delivery and 4 or more stars reached the final round of picks. We made an effort to include multiple brands and price points to accommodate buyers with a wide range of preferences and budgets.
Compare 10-Inch Car Subwoofers
| Brand | Model | Star Rating | Cost | Prime-Eligible |
| --- | --- | --- | --- | --- |
| Skar | SDR-10 D4 | 4.6 | $89.99 | Shop now |
| Rockford Fosgate | R2D2-10 | 4.5 | $53.00 | Shop now |
| KICKER | 43CVR102 | 4.7 | $89.96 | Shop now |
| JL Audio | 10W0v3-4 | 4.6 | $159.00 | Shop now |
| MB Quart | DS1-254 | 4.6 | $62.99 | Shop now |
*On Amazon, as of publishing date
What to Know About 10-Inch Subwoofers
There are plenty of options available for car subwoofers, but you can narrow them down by choosing your budget and a brand you trust first. You can purchase subwoofer and enclosure combos for a premounted system, or you can find a slimmer subwoofer to fit a small space. You can also compare the following details:
Power: The sub's power rating should match the amp's output power and be high enough to supply the quality of sound you want.
Frequency range: This range determines how low and high the frequency of the subwoofer's sounds can get.
Impedance: Most car subs have an impedance of 2 or 4 ohms. A lower impedance produces louder sound — but with a lower quality.
Sensitivity: The higher the sensitivity rating, the less power's required to produce the same amount of sound.
Bottom Line: What Makes a Good 10-Inch Car Subwoofer?
A good 10-inch subwoofer comes from a reputable brand and matches the power rating and impedance of your setup. Based on sound quality, costs and reviews, our top picks include Skar, MB Quart, JL Audio and KICKER.
10-Inch Car Subwoofer FAQ
Ten-inch subwoofers range in price from $50 to $400. There are plenty of models available at every price point.
This depends on your sub's power rating and impedance. Both numbers should closely match the amp.
Subs with higher power ratings and cooling features like venting and heat sinks will perform the best. Look for subwoofers with 1,000-watt peak power or higher.
This depends on the details of your setup, but two 10" subs will have more sound pressure. The 12" sub may provide a deeper sound, however.
Car subwoofers typically last around four to seven years. This varies depending on how much you use the subwoofer.