TearDrop speaker allows you to take your iPod with into the shower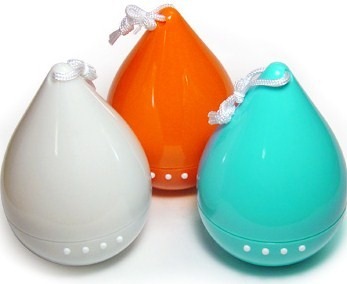 I suppose you could use it just about anywhere it might get wet, but won't get submerged. You can fit any small MP3 player in it, as long as its smaller than 2.55x4.17x.78 inches in size.
It appears to have a power button, and volume buttons, and some other fourth mystery button. There is also a rope, I assume so you can hang it from your curtain rod or shower head, other than that, its shaped like a tear drop and comes in white, red, or light blue.
You get your choice of color for $58, but bad news for you if you want one now, they are sold out. However, on the bright side, they are expecting a new batch sometime this month at mollamolla.com
TearDrop Shaped Water Resistant Bathroom Speaker Houses Your iPod [via chipchick]