TDK firms up Industrial Grade UDMA-6 CF and SSD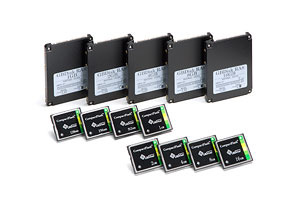 Growing up, I remember the household name TDK as the brand of choice in magnetic recording media, whether it is industrial or consumer grade line of product. That hasn't changed when it comes to optical recording media such as Blu-ray, Dvd or Cd disk. The company looks to firm up it's position in the uprising flash-based memory storage with the introduction of industrial grade, UDMA-6 compatible CFG8A series CompactFlash cards and SDG8A series of PATA SSD.
The new cards have maximum capacity of up to 16GB available, and offer faster read and write times of 50/30 megabytes per second thank to the In-house GBDriver RA8 U.DMA 6-compatible NAND Flash memory controller and a high-speed, high-frequency write single level cell (SLC) NAND Flash memory.
In additional to speed, the Industrial grade NAND-based memories sport an advanced static wear leveling and robust error correction function scalable to 15 bit/sector ECC to provide high data reliability and improve product life span.
The company will began shipping CFG8A series of U.DMA 6-compatible CF cards and the SDG8A series of PATA-compatible SSDs in December.