Taposé hits iPad: Courier in app form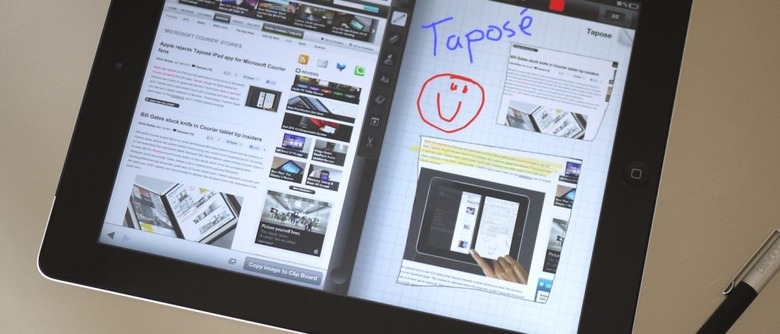 Digital notetaking and collaboration app Taposé has finally been allowed into the iPad App Store, recreating some of Microsoft's ill-fated Courier concept on Apple's tablet. The $2.99 app promises to make journaling and webpage snipping straightforward, with a twin-pane layout for dragging live content between the web and a notebook, along with sketching, mark-up and other tools. Meanwhile a cloud storage system keeps notes updated – with export options to send them over to Evernote and Dropbox – and allows for collaborative work between multiple remote users.
It hasn't been an easy route to market for Taposé, with Apple turning away the app on several occasions. Most recently the company took issue with the dual-window design the notetaking app uses. "Apple has finally approved Taposé" the company writes. "It only took four months, three rejections, one appeal win and then reversal of said appeal, management UI review, and then one more final review for good measure to get Taposé approved."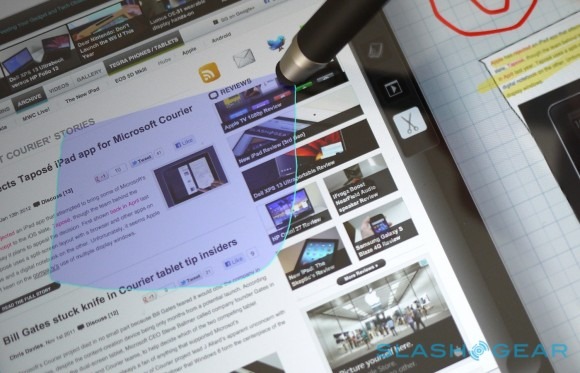 That approval has been granted with most of Taposé's multitasking features still intact. The app allows for contacts to be emailed and pages to be printed – using AirPrint – without dropping out of the app to do so, while media imports can include handwritten text, PostIt-style notes, snippets of maps or diagrams, photos, audio, video and sections of other journals, in addition to contacts data and links. A "wrist guard" feature promises palm-rejection style technology to allow you to rest your hand on the iPad without it being picked up as a tap.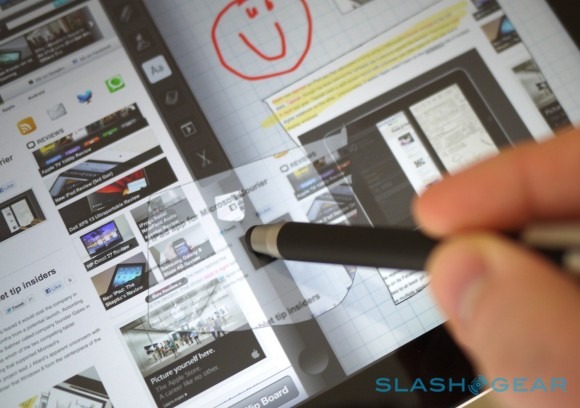 Meanwhile, the team behind Taposé claim that work is about to begin on v2.0 of the app, and that we should expect vast improvements from that. "If you like 1.0, then 2.0 will blow your mind" they tease, "it's like comparing the first iPhone with the 3G, if many of you can remember back that far."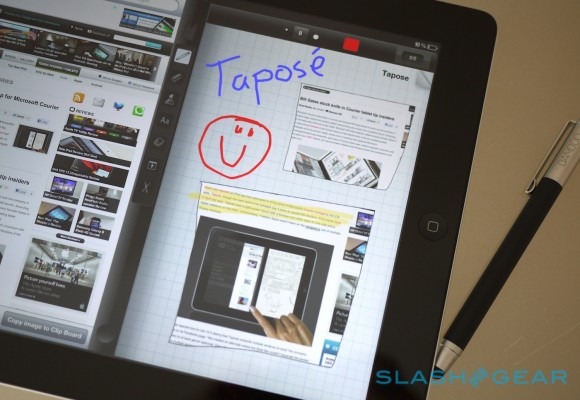 We've been playing with the app for a short time, and first impressions suggest there's plenty of potential – and some rough edges. Not all of the graphics seem up to speed with the new iPad's Retina Display, looking pixelated and crunchy in places, and at times it grew sluggish. We also had some mistap issues, and at times the on-screen keyboard would instantly flick away before we could touch anything. However, on the flip side it was easy to snip sections from webpages into a notebook and then annotate them. Some of Apple's restrictions may continue to impact on the app, too; for instance, there's a block on accessing Safari bookmarks.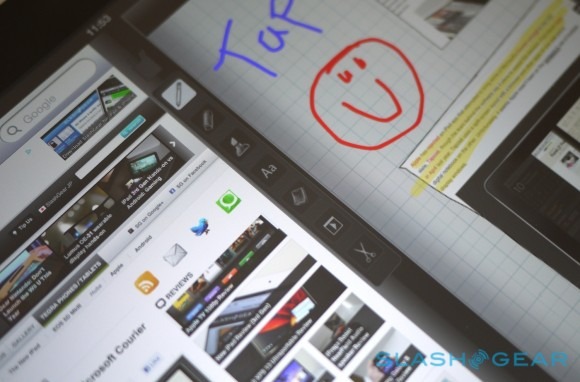 Taposé is available from the App Store for the iPad, priced at $2.99 [iTunes link]. Your purchase gets you 400MB of cloud storage with the company; unlimited storage is $29.99 per year.