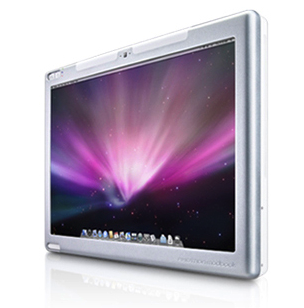 Axiotron, maker of the successful Mac tablet, the Modbook, have just announced an update to their system that really changes the entire thing for the better. This isn't just a miniscule upgrade; rather, it's significant.
Some of the updates affect the system's hardware controller board. This has made for overall improved system performance, better battery life and an improved sleep function. Radio frequency shielding now also improves the digitizer's responsiveness, making it so the tablet is not as susceptible to interference.
The Modbook AnyView LCD panel has also gotten an upgrade by means of a new bonding process and a ForceGlass screen cover that improves contrast ratio. Plus, it now features the QuadCoat process, which protects the top shell with a liquid metallic coating. Apparently, this process was taken from the auto industry and reduces the overall weight down to 5.3 pounds. Other added features include full Bluetooth, improved compatibility with Mac OS X, improved GPS, Autodesk SketchBook software and more. You can get the new and improved Modbook now for $1,299 for just the modification of a MacBook or $2,249 for a MacBook and the modification combined.