Treo 700W Release Date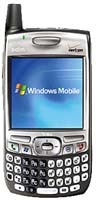 Treo 700w will be release on the 5th of January, This all-in-one smart phone is powered by Windows Mobile 5.0. The Treo 700w also comes with Wireless sync, Active Sync 4.0, Built-in Blue tooth technology, Windows Media Player 10 and a 1.3 mega pixel digital camera.
Features:
All Digital, 128MB Flash/60MB RAM, 1XEVDO, 1XRTT, 240x240 color TFT touchscreen, Back lit QWERTY Keyboard, Blue tooth Enabled, Calendar, Call Waiting, Caller ID – Picture, Camera Resolution – 1.3M Pixel, E-mail and Internet Access, Hearing Aid Compatibility: M3, High-Performance & Robust Antenna, Infrared Port, OTA Capable, Removable Memory Slot – SD, Speakerphone, TTY compatible, TXT Messaging, Video Messaging, Wireless SYNC.