Tablets, tablets all around (& not just Notion Ink)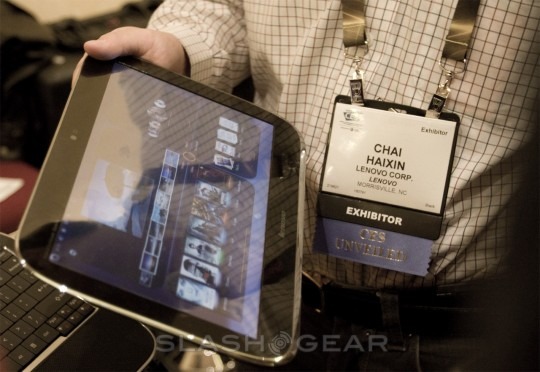 One of the big surprises from CES 2010 last week was the sheer number of tablets. Perhaps, what with the persistent rumors of Apple's imminent entrance to the segment, that shouldn't be seen as too unusual, but as many commenters seem to have conveniently forgotten, this isn't exactly a new niche in the tech world. Microsoft, however badly they subsequently managed it, lent their weight behind compact tablets (aka UMPCs or Ultra-Mobile PCs) back in the days of Origami, and more recently we've seen PMPs first grow large, video-capable displays and then borrow internet functionality from notebooks as WiFi proliferated.
Instead, it seems that not only have consumers begun to finally figure out what they might use a tablet for (dare I say the iSlate hardware lust may have prompted some frantic justification as to why a tablet might be an "essential" addition to any Apple-fan's armoury) but the hardware available has caught up to what's being asked of it. Chips such as Qualcomm's Snapdragon, Freescale's i.MX515 and NVIDIA's Tegra 2 use frugal ARM processors to balance strong multimedia performance with lengthy battery life, while capacitive touchscreens have proven their worth and even transitioned – if not known by their technical name but in terms of "just like the iPhone's display" – to mainstream consumers. Equally important, we're finally seeing maturity in core display technology; after AMOLED failed to provide the instant, low-cost, power-sipping boost to the sort of large panels you need for tablet, we've got Pixel Qi's excellent dual-mode display and alternatives such as Qualcomm's mirasol headed to market later this year.
Recession or not, manufacturers made ample use of these new technologies to grab their share of the CES pie. Pixel Qi's display (and the Android OS) was used to great effect in the Notion Ink Adam, while Freescale came up with a low-cost tablet reference design of their own. Meanwhile Lenovo hedged their bets with the distinctive IdeaPad U1 Hybrid, reminiscent of the much-loved HP Compaq tc1100, at work a regular notebook (with a regular processor) and at home a keyboard-less slate with its own, Snapdragon processor and touchscreen. Some of the growing names in tablets and MIDs – Viliv, UMID and others – brought along their new wares too, bostered by a better reception in the mainstream press and blog community than UMPCs could have ever hoped for.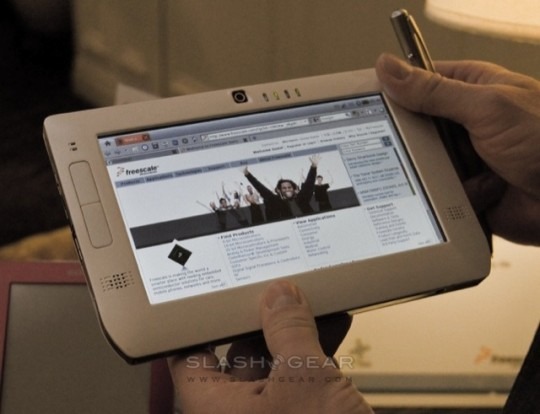 On the face of it, then, it seems churlish to complain about the designs shown, but as a potential end-customer (and someone who owned a tc1100) I'm left wishing some of the final dots had been joined up. I'm talking about what sort of tablet I might spend my own money on, the kind of device that, before the review unit even goes back, I'm online buying for myself so that there's no downtime in-between. Here's my ideal tablet, based on the sort of technology we've seen over the past seven days, reckon is coming in the next 6-12 months, and takes into account some of the gaps I reckon will still trip up consumers.
I'd start things off with a form-factor in the manner of the IdeaPad U1. Lenovo's hybrid neatly answers the question many would-be tablet buyers have – what if I need a physical keyboard? – and for my day job, however good handwriting recognition, speech transcription or on-screen keyboards get, a decent 'board is essential. Of course we've had convertible tablet PCs for years, but because everything is permanently attached – albeit with a nifty swivelling hinge – the components in the keyboard section have to be lightweight enough to allow for comfortable carrying. That seems to have resulted in either low-powered components and a sluggish computing experience, or a heavier machine less suited to toting; faster CPUs guzzle more power, so need bigger batteries if you're not to be tethered to an AC point every half-hour, and batteries add weight.
By adopting a mainstream CPU when the screen is docked in the laptop and a Snapdragon chipset when it's slate-screen only, Lenovo have gone a long way in addressing that issue. The lingering problem I have is storage: docked, the U1 uses its capacious SSD, but the slate has a separate 16GB of its own flash. I'd be concerned that the files I wanted to access (most likely memory-heavy media) would have been left on the base section. Lenovo could pretty readily address this with a combination of some sort of intelligent sync app, cloud storage and a streaming media service like Spotify; right now, though, we don't know exactly what happens in terms of data management.
Similarly unknown is power management. Both base and slate have their own battery – Lenovo reckon you'll see 4-8hrs of runtime in the former mode and 4hrs in the latter – but, when you plug the IdeaPad U1 into the mains, which gets recharged first? I'm hoping Lenovo have prioritized the slate's battery, after all there's no point in the notebook base sitting fully charged when the separated display is left lacking.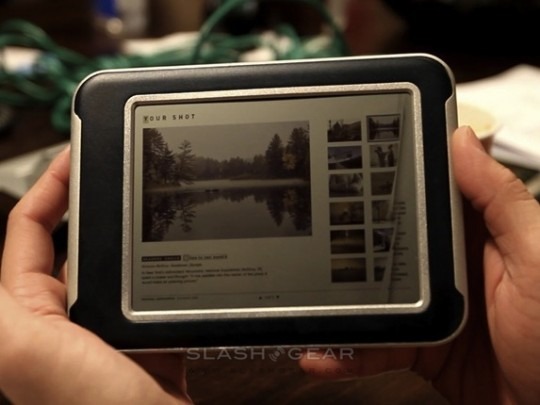 It also seems a shame that Lenovo have picked a regular LCD display, and that's where my next donor system steps in. Qualcomm's mirasol panels are brilliant, if a little small right now, but equally impressive is Pixel Qi's technology which offers a regular backlit LCD experience together with an electrophoretic reflective mode in which direct light (such as when outdoors) actually makes the display easier to view rather than harder. It's been demonstrated on Notion Ink's Adam tablet, one of SlashGear's standout devices from CES 2010.
Unlike Lenovo's U1 slate-section, Adam uses the Android OS (with a new, only partially previewed custom UI of Notion Ink's own development) on an NVIDIA Tegra 2 chipset. Until Qualcomm's next-gen Snapdragon chips arrive later in 2010 I'm leaning toward the Tegra 2 for my fantasy device, if only because – paired with the power-sipping Pixel Qi display – Notion Ink have managed to eke out up to a potential 160hrs of runtime from a regular 3-cell battery. Bear in mind that's in electrophoretic, "outdoor" mode, in which the Adam is still capable of showing full color video at high frame rates. The company are positioning the Adam as a Kindle-killer, though not only for monochrome ebooks but digital magazines with embedded animation and video.
I'm greedy, though, and want my media tablet integrated with my laptop in some way. After all, what's to say I won't read your latest scoop while in slate mode and then want to blog about it myself? That's why I want to be able to dock the Adam into a notebook base station, not just with a dumb QWERTY like Freescale demonstrated but a full computer with some extra grunt in case there's video processing to be done.
Will the Apple tablet deliver all this? No, not likely. As Apple have shown with the iPhone and iPod touch, they're all about onscreen keyboards right now, and any sort of dockable-slate they might come up with would stand too great a risk of cannibalizing the MacBook/MacBook Pro market. Judging by the ongoing rumors, Apple are focusing on media consumption – videos, music, ebooks and other digital content – rather than media production, a camp I'd like my dream-tablet to have at least one foot in. What's right for me, though, is certainly not what every user is going to be looking for, and I'm curious to hear what SlashGear readers – some of whom I know are big tablet-addicts – might be looking for in a "perfect" device. Let us know in the comments what you're looking for before you open your wallet.