T-Mobile Samsung Memoir: $250 on February 25th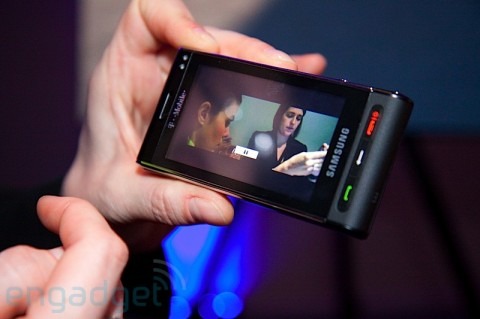 T-Mobile may have announced it was getting the Samsung Memoir back at the beginning of the month, but that didn't stand in the way of the handset's "official unveil" at Mobile World Congress today.  What they also threw into the mix is cost and availability: you'll be able to pick the Memoir T929 up, on T-Mobile USA, come February 25th priced at $249.99.
Obviously that's assuming you're happy with a two-year agreement and picking out a "qualifying" data plan; there's also a wretched $50 mail-in rebate.  The Memoir is a 3G device, so assuming you're one of the 100 million people T-Mobile USA are claiming 3G coverage over (more than 130 US cities, across 27 "major markets") you'll be able to pump out your high-res photos at high-speed.
The Samsung Memoir has an 8-megapixel camera, Xenon flash, 16x digital zoom and has a full HTML browser, one-touch upload to various online photo galleries, and the ability to record up to 60 minutes of video.  Gear Log's Sascha had the chance to take the Memoir out for a test-shoot against the Canon PowerShot SD870IS, a well-considered 8-megapixel dedicated digital camera, and he's come away impressed:
"With outdoor shots, you have to zoom in to the pixel level to see any real difference between the two cameras, which is truly impressive ... It's easier to tell the difference with indoor shots, because like most cameraphones, the Memoir sometimes takes blurry photos indoors because of very low shutter speeds. The Memoir's Xenon flash is brighter than a standard cameraphone, but nowhere near as bright as the PowerShot's flash" Sascha Segan, Gear Log
Meanwhile Engadget have a gallery full of shots of the Memoir itself, and it's a reasonably handsome – if not especially inspired – device.  Samsung have lifted the GUI from their digital camera range and dropped it into the Memoir's OS; that way, flip the T929 horizontal, hit the camera shortcut and you could almost forget it's a cellphone at all.