T-Mobile free global data arriving later this month [UPDATE]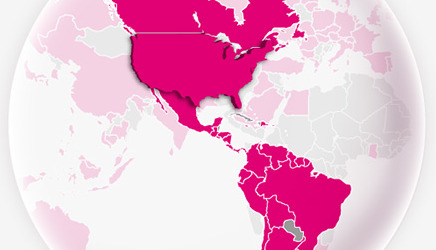 Earlier today, a Shakira fan Page on Facebook posted an image of the singer on a T-Mobile advertisement, which included a teaser that the carrier would be offering free global data in more than 100 countries. At the time, a link was included with the image that redirected to a "Coming Soon" page, but that has since been swapped with a confirmation page on T-Mobile's website. Update: we've got the details after the jump.
The original image that surfaced reads, "Now your data plan has a passport. Global data coverage in over 100 countries at no extra charge." That has been confirmed with the new page T-Mobile has up on its website, which states "The world is your network at no extra charge." Unfortunately, at the moment its "Learn More" link is redirecting to an error page, so it seems the carrier is still working on getting all the information up behind the scenes.
Since the Learn More page isn't up yet, we don't know all the particulars about what T-Mobile has cooked up. There are a couple tidbits of information on the landing page, however, including the most relevant part — that the global data won't cost any extra, and that it'll be available in a large number of countries.
In order to use the global data, users will need to be on a postpaid Simple Choice Plan, and will need a device capable of connecting to the international networks. T-Mobile hasn't given a hard launch date either, stating only that the service will be coming later on this month. As always, we'll keep you updated as more information surfaces.
UPDATE: T-Mobile has dished the goods, stating that its new feature will begin on October 31, with both individual and business Simple Choice subscribers getting unlimited texting and data in the 100+ countries covered. With the global feature also comes international calling rates of $0.20 per minute. Calls from the US to any of the supported countries can be reduced for $10 per month, with calls to landlines in 70+ countries being free, and the rest being priced at $0.20 per minute.
SOURCE: Droid Life