Synology DiskStation DS712+ NAS Review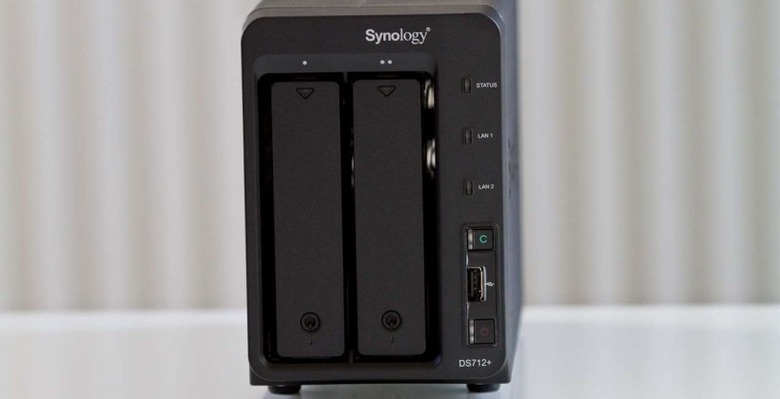 With services like Apple's iCloud and Google Cloud Music, it's easy to assume that the future of our data is putting it safe on someone else's servers. There's another option, however, in hosting your own cloud – and backup system – with a NAS. Synology has made a name for itself with flexible, affordable Network Attached Storage that doesn't fall short on performance, and the DiskStation DS712+ is the latest to target home and small business users. Twin drive support, copious multimedia streaming options and the promise of super-fast data rates: there's a lot to like about the DS712+ on paper at least. Check out how it holds up in the full SlashGear review.
Hardware
Synology's design language tends toward the subtle, and the DS712+ is no exception: a 157 x 103.5 x 232 mm box clad in matte and glossy black plastic. Under the hood, the DS712+ is powered by a 1.8Ghz CPU and 1GB DDR3 Memory. The twin 3.5-inch drive bays are accessible from the front (and can be used with 2.5-inch drives too), each with an LED indicator to show activity. Each hinged bay-door has a lock, too, though it's more to prevent accidental drive removal rather than a real security feature.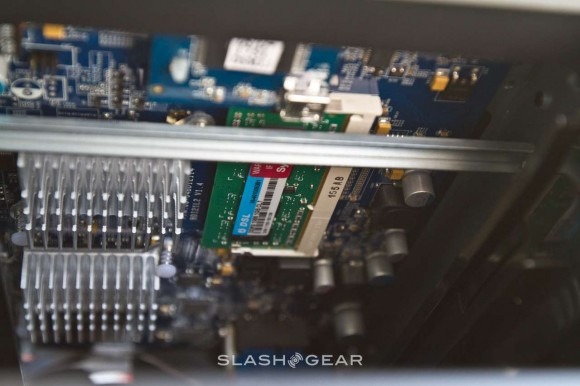 Other front-panel lights include two LAN LEDs – the DS712+ has a pair of gigabit ethernet ports – and a status indicator, while there's also a power button/light and a dedicated copy button that pulls the content from an external drive plugged into the front USB 2.0 port to a preset folder. The rear panel is dominated by a 92mm fan, but there's also a pair of USB 2.0 ports and an eSATA port along with the power input and dual Gigabit ethernet ports.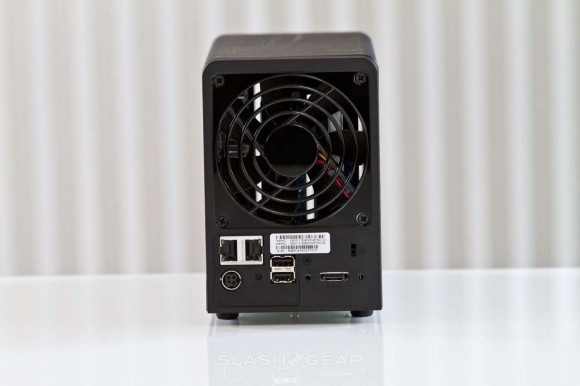 Installation is straightforward: slot in one or two drives, each up to 3TB in capacity, and then plug into your network. Synology allows the two ethernet ports to offer either link aggregation or network failover: you can either double-up with two connections to a single network, for faster throughput, or have the DS712+ linked to two separate networks so as to be accessible even if one goes down.
Synology's fan is temperature controlled, running slowly if the DS712+ isn't under load. During our throughput tests it spun up to a solid hum – though was still quieter than a desktop computer – whereas under normal use it was barely noticeable amid the rest of the hardware in our test area.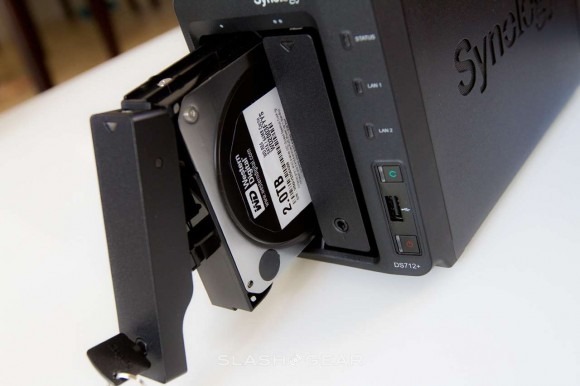 If two drives aren't enough for you, the DS712+ is compatible with Synology's DX510 Expansion Unit, offering a further five bays. The DX510 plugs in via eSATA and makes for a maximum possible total of 21TB. It's not a particularly cheap setup, however: the DS712+ has a list price of $499.99, and a DX510 is a further $499.99, neither coming with actual drives.
Software
Both Synology's home and business NAS use the company's excellent Synology DiskStation Manager software, a custom-built interface accessed through the browser and which is head and shoulders above the clunky UIs of rival products. DiskStation Manager (DSM) resembles a Windows or OS X desktop, offering various tools and apps that can be accessed simultaneously with a windowed layout. It's also extensible, with Synology offering various "packages" that can add extra functionality to the box.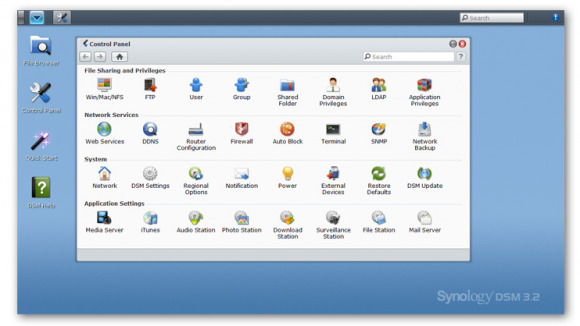 At its core, DSM allows you to set up a pair of drives in the DS712+ as either two separate disks, JBOD (i.e. one large disk that combines the capacity of both), RAID 0 or RAID 1, or Synology's own Hybrid RAID. The latter is arguably the most useful: not only does it provide storage redundancy (i.e. with two 3TB drives you get 3TB of total storage, one mirroring the other in case of HDD failure) but you can use it with mismatched drives. So, if you have a 3TB drive and an older 2TB drive lying around, you can combine them into a Hybrid RAID setup and still have some redundancy (DSM figures out exactly what data security can be offered, in the case of mismatched drives).
Beyond that there's functionality for just about everything you might want to use a NAS for, whether business, pleasure or a combination of the two. Basic things like user accounts (with optional capacity limits) are obviously supported, as is Windows and Mac backup; Synology offer a PC backup app, and DSM is Apple Time Machine compatible. There's remote access – either limited to the local network or over the internet – and the ability to use the DS712+ as a standalone FTP, mail and web server, as well as a standalone BitTorrent downloader. Two USB printers can be plugged in and shared across the network too.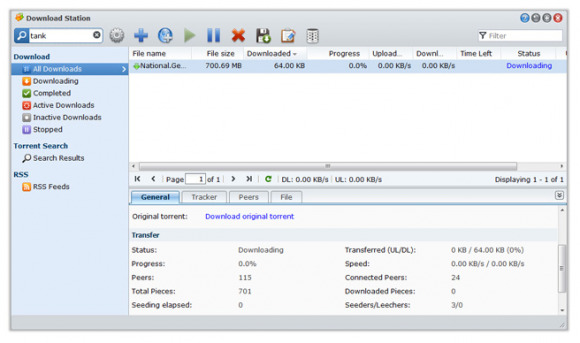 Multimedia use, meanwhile, sees the DS712+ step up as an iTunes server, a photo/video/audio streaming station, Squeezebox Server for those using Logitech's distributed audio system, and as a way of pulling in internet radio. DSM has its own music playback app too, also living in the browser, and there's DLNA/UPnP support for serving content to a PS3, Xbox 360 or other compliant device. Finally, there are streaming media and remote file access apps for iPhone and Android, allowing you to remotely access your content and documents without filling up your phone's memory.
Other NAS devices offer some of this functionality, but what sets DSM apart is how straightforward to use it is. It's definitely the most multimedia-friendly NAS software we've seen, but it doesn't stint on advanced features. For instance, the DS712+ can transcode audio files on the fly, in case your UPnP client doesn't support a certain file-type, as well as transcoding MKV video for playback on your PS3.
Performance
All that flexibility would be pointless if the DS712+ didn't deliver on network performance, but happily that's not the case. Synology claim up to 97.04 MB/sec write speeds and up to 107.09 MB/sec read speeds when transferring a 5GB file; if you use link aggregation, bonding the two ethernet ports, those rates jump to 105.59 MB/sec write and 180.91 MB/sec read.
We tested both setups, and found Synology's figures to be surprisingly accurate. With a bonded network setup of the two gigabit ethernet ports, transferring 80.56GB to the DS712+ took 17 minutes and 22 seconds, reaching 103.62 MB/sec write rate. Copying files back from the NAS hit 183 MB/sec.
With just a single ethernet port in use, we saw 91 MB/sec write speeds to the NAS, and then 101.02 MB/sec read speeds, again both using Rsync to copy files to and from our computer. That's considerably better than the DiskStation DS211 we tested last, though the DS712+ is more expensive.
Wrap-Up
It's hard to argue with the DS712+'s performance and software flexibility. The hardware is compact and easy to set up, quiet in operation, and the data throughput – especially if you bond the twin gigabit ports – is strong. Synology's DiskStation Manager is hands-down the best NAS interface we've seen, combining advanced features with a user-friendly UI.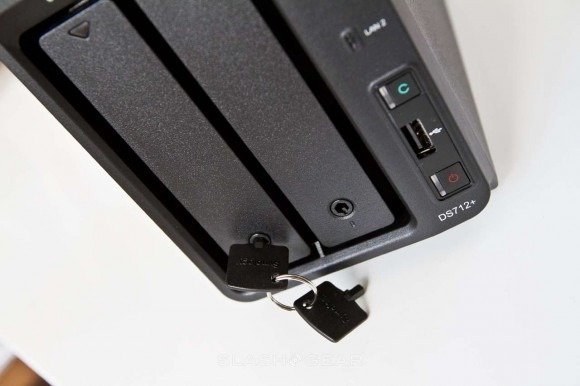 Our only concern would be capacity, the dual drive bays and pricey DX510 expansion unit meaning adding storage beyond the 6TB maximum of the DS712+ itself could quickly get expensive. Still, Synology also offers the DiskStation DS411+II, with similar quoted performance figures but four internal drive bays and a $649.99 price, for those who think they'll want more capacity from the outset.
6TB is plenty for many home and small business users, however, and on that basis the small footprint of the Synology DiskStation DS712+ and easy usability make it another impressive product from an impressive company.